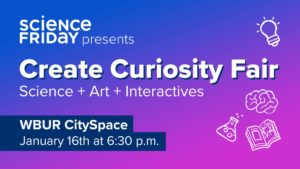 Know what we need more of? Science.
Readers of this page know that, whatever else may be true, Rosemary Mosco of Bird And Moon is one hell of a naturalist, a terrific explainer of all things biological (particularly snakes, birds, and butterflies), a walking compendium of knowledge ranging from identifying what's in owl barf to climate change.

And for those of you that can't get enough of her¹, you'll have a shot at an in-person event in just about five weeks:

This is going to be amazing. I'm taking part in a @scifri event on Jan 16 in Boston! Come see a video about my comics (and my interrupting pet birds), chat with folks including the amazing @mariswicks, and check out a ton of art and science collaborations.

Just for the uninitiated, @scifri would be Science Friday, the long-running NPR show which — among other public services — broadcasts the annual IgNobel Prize ceremony. Ira Flatow has hosted the show since its inception, and he's been an entertaining, effective communicator of Science Stuff ever since the early Newton's Apple days. Yes, I watched it from the premiere episode. Yes, I am old.

I expect that readers of this page are already familiar with Maris Wicks.

Anyways, the event that Mosco's so rightly excited about would be the Science Friday Create Curiosity Fair, to be held in the pubic space of NPR member station WBUR, on 16 January 2020 from 6:30pm to 8:00pm. The event is all ages, general admission US$10, kids under 12 free with registration. In addition to Mosco and Wicks, you'll have folks from the Harvard Museum of Natural History², the New England Aquarium³, and other sciencey types from the region.

Speaking of the IgNobel Prizes (and we were, just about two paragraphs due up), did you know that one IgNobel laureate has also won a Nobel Prize? It's true! There was a levitating frog involved!

Unsurprisingly, it's a white dude, which fact would also not surprise you if you've read the latest from Maki Naro (cartoonist, science communicator, and Best At Drawing Totoro) and Matthew Francis (physicist, science writer, bowler hat enthusiast, and author — with illustrations by Naro — of Who Owns An Asteroid?) on why women are systematically excluded from the science Nobels.

It's a good read, one that'll make you mad. And if anybody says Well, chicks just ain't good at science, ask them whose notes Watson and Crick cribbed from and who discovered pulsars. I could go on, but honestly, this hypothetical I'm just a believer in merit and ability bozo hasn't heard of Watson, Crick, or pulsars, so screw that dude (of course it's a dude).
---
Spam of the day:
Keep yourself AND your wine warm this winter 15 bottels of our AMAZING Holiday wines
So this appeal from "Thanksgiving Wines" (which arrived four days ago) is apparently that rare wine merchant that believes in keeping their bottels [sic] warm, which will only accelerate the march to vinegar. Try again.
_______________
¹ And how could you, really?
² They got dinosaurs.
³ They got squid.