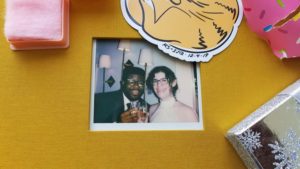 From Ian Jones-Quartey, About eight minutes ago as I write this:
Hey so @rebeccasugar and I have been a couple for 12 years … and yesterday we got married! To each other!
Oh, hooray! I only met Rebecca Sugar once (at another wedding, as it turns out), but I've followed Ian's work since he was in high school, and known him since his SVA days. He's a sweet guy, and Sugar is widely and justly known for creating one of the most humane stories of modern times, making countless kids feel like the world is for them, too. Be happy for them, and remember that Steven Universe Future debuts on Cartoon Network in two days.
And because I need to have more than just breaking news in this post, let me note that Gemma Correll is getting an Emerging Artist Showcase at the Cartoon Art Musuem, from 20 December until 29 March. It'll feature a collection of Correll's favorite cartoons, including material from The Nib. I first saw her work when The Nib launched, and I've been a fan ever since. It says something about how much her sensibilities match mine that, without knowing of my preference for her work, my wife gave me a birthday day last year that was illustrated by Correll. If you don't know her work, check it out.
Okay, back to being deliriously happy for the bestest young animators in the world. Y'all have a magnificent day.
---
Spam of the day:
Spammers don't get to share the day with Rebecca and Ian.