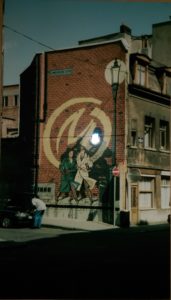 We return again to the 2019 Quai des Bulles festival of bandes dessinées and Fleen Senior French Correspondent Pierre Lebeaupin; today he's bringing us a report of a meetup featuring Imbattable colorist Laurence Croix.
__________
The meetup took place Saturday at 10 AM at the Saint Malo library. Questions, unless otherwise noted, were asked by Sarah Bresson, from the Saint Malo library. Unfortunately, while I was able to take photos, they were systematically plagued with coloration artifacts, making them unfit for publication given the subject matter. [Editor's note: No worries, FSFPL, I gotcha covered.]
The meetup began by an introduction of Laurence Croix: she has been coloring comics for 20 years, and her work on Imbattable is featured in the exhibition on the series, but she has worked for varied targets, all the way from youth magazines to all kinds of traditional comics publishers, working on series such as Blake et Mortimer but also more realistic universes.
Bresson: Can she tell us about growing up in Loire-Atlantique?
Croix: Her parents taught history and geography, and they had many classic comics at home, such as issues of the Tintin and Spirou periodicals starting in 1968.
Bresson: So was it an early dream for her to work in comics?
Croix: Not early, but she did dream of it, though her studies, in Rennes, were initially intended to get her to a job as an art teacher.
Bresson: But she did do a master on color in comics.
Croix: Indeed, because at that point she was able to choose the subject matter. Back then academia did not recognise comics as a matter of study, but it changed at just about that time, due to a whole generation of local creators, such as Brüno, and she contributed from afar. Her mémoire was on coloring and color printing techniques for comics.
Back then Brüno was already creating black and white comics with small press techniques, however for Nemo he was to meet with a publisher for a color publication, and he wasn't feeling like coloring it by himself, so he asked her if she wanted the task, and she did since it was to be a small run, with limited risk; since then he has been successful, with Nemo and other works. That put her on the saddle, and she hasn't been stopping since about 2002. She was at the right time at the right place.
Bresson: Coloring happens after a long process.
Croix: Indeed, coloring happens downstream from writing and drawing, but ahead of book layout and prepress, printing, distribution, etc. It is the final part of the creative process, which means she sometimes has to catch up for a late artist. This matters particularly for big runs, as those have a longer printing phase. Meeting a deadline is like running a sprint for her.
Bresson: Is she able to ponder the necessary work ahead of it starting?
Croix: It depends, for a 200 page book she can certainly work on the long run, but youth magazine work has to be done within the week.
Bresson: Does she get directives from the upstream creators?
Croix: Having the text is a good start, which she does not necessarily have, beyond that mostly whether it is day or night, sometimes the time of day. Sometimes if the inking is heavy the artist is unable to tell whether it was supposed to be morning or the afternoon, she has to get back to the writer.
Bresson: What kind of tools does she use?
Croix: She works with Photoshop. She showed a quick movie capture of her process; she explained that for that page the colors had already been validated from the previous ones, so she was mostly running through the process, using the color palette that could be seen on the side. However, it was necessary for her to add filters so that the same characters (with the same skin colors, etc.) could be integrated to the various ambiences.
Finally, she saves in a way that imitates the traditional system: one layer corresponding to the blacks on Rhodoïd, and one for the colors that would have been put on drawing paper, the whole thing that would have been going to the printer for the photo engraving process, traditionally. She explains the role of CMYK here: inks and lettering become 100% black (Key) so as to have sharp edges even in case of slight misregistration, and traditionally colors were 0% black so as not to be "dirtied". Now she can put some black component in her colors thanks to improved processes, that allows her to obtain additional depth in come cases, such as for the khaki in uniforms.
Before it goes to the printing press, the printer sends her a chromalin of her work to make sure the colors are what she intended: displays are not necessarily reliable. In one occasion she realized the requirements used were obsolete: color printing is based on European norms that are updated regularly, with as a result the outcome being redder than expected, so corrections were necessary to match her intent, reflected from what the display shows.
Her past works end up becoming out of date: for the Spirou by Schwartz and Yann omnibus, collecting books published between 2009 and 2018, one of them at least will have to be corrected. For another book reprint the publisher had lost the original files, prior to the CMYK used for printing, and if she hadn't been able to supply them again they were getting ready to rescan a book from the original run …
Bresson: Does she work on multiple projects at the same time?
Croix: Indeed, it allows her to switch projects if she is unable to progress on one, with renewed inspiration when going back to it, but it can potentially be a trap: she must be careful to keep each project thematically consistent.
Bresson: What does color bring to comics, and how did that even get started, historically speaking?
Croix: That goes back at least to the Yellow Kid, a Sunday comic strip in the New York World: color was used as a tool to sell papers, and to an extent it keep being a way to move books even if some colleagues might not like hearing that. For her, color must bring something to the work and elevate it. The symbolism associated with colors has varied in eras and cultures, and that aspect is not to be neglected: for instance in the middle ages wedding dresses were red rather than the current white; similarly colors associated with mourning have varied.
Bresson: What about orange?
Croix: That is indeed her favorite color: similar to red, but less aggressive. But she does not necessarily have free reign, sometimes an artist will veto a beautifully colored page solely because he does not like the color. Intensity can be challenging, as well: for a cover that had to have a matte finish she made sure to adapt the colors in compensation, and then a printing mistake ending up giving a glossy finish resulting in too intense shades; that can happen.
Bresson: Can you tell us some examples of ambience work?
Croix: One classic is to have sepia tones for a flashback sequence, and here we have a cover for a book collecting interviews with EP Jacobs¹: in this slideshow you can see in sequence the covers she proposed, with varying indoor ambiences, each file name ending in a different letter of the alphabet to manage versioning. For this kind of classic series such as Blake et Mortimer, but also Spirou, she must respect what has been done before her, but it is an interesting constraint.
Bresson: Does she always work digitally?
Croix: For her professional output, yes, but before going pro she did build up a portfolio using traditional techniques, on Tardi pages, in order to solicit publishers.
Bresson: Do colorists have any sort of specific style?
Croix: It's hard for her to say, she tends not to reopen her published books once printed.
Bresson: Are there other colorists that she looks up to?
Croix: Yes, Isabelle Merlet among others.
Bresson: And what are the criteria for her admiration?
Croix: It's hard for her to tell.
Bresson: Does she use tone gradations and other such techniques?
Croix: Not much; contrary to some colleagues she does not draw, and is aware to her limitations in that regard. For some works such as art prints she has to limit the number of shades used.
Bresson: What are her comics references?
Croix: La Langouste ne Passera pas, by Jean Yanne and Tito Topin; the latter has mostly worked as a writer for detective series on TV. She has looked at it a lot though without necessarily reading it. Then The Rivals of Painful Gulch: the colors may appear simplistic, such as in the blaze sequence, but they are very efficient. Finally Le Réducteur de Vitesse by Blain. Colors have always been tied to the printing techniques, and in the 90s allowed for direct color printing and comics started using that, but that book taught her it was OK to use flashy colors out of the 50s.
Bresson: Why are there such limitations? Are there codes to follow?
Croix: Many aspects in comics come and go out of fashion, so maybe her work will become dated in a few years. In the case of one book she had to ask for an extension from working so far out of her comfort zone. Codes do exist, she read a color theorist who divided possible color contrasts between seven kinds, and she realized she was doing very little of one, the light and shadow.
Bresson: Who decides, in the end?
Croix: The artist has final say (except for the cover, where marketing and such are directly involved), he delegates the work to her and that means she need to watch what she's doing, not to mention it is the artist who then goes to publicly defend the work, at signings for instance. She can raise a veto for technical matters, when printing would be impossible for instance. So she has to be humble, even if sometimes she is given free reign: its has recently been the case for two painter biographies, one of Gauguin, which she found easy to handle, and one of George de la Tour, which she found hard.
At this point questions were opened to the public.
Question: What does she refer to regarding these Euro norms?
Bresson: To the color space contained with each iteration of these norms, which requires her to change from the Photoshop default, which corresponds to a US norm. Paper can affect colors as well, but it is chosen at the last moment and she has no control over that; worse, in some cases the French edition may be printed on one paper but the foreign one printed simultaneously with another.
Question: Are colors created on screen?
Bresson: Indeed, initially she relied on a regular display she manually calibrated by herself, and on occasion the chromalin sent for proofing would be all wrong; she also had to learn to send her calibration profile to the artist for him to be able to validate the colors. Now she uses precalibrated professional displays, and is much more comfortable when sending the colors for proofing.
Question: What kind of directives does she get?
Bresson: She is given the location of characters or elements to highlight, when in a crowd for instance, also on occasion photographic documentation for settings.
Question: Is she attracted to watercolors?
Bresson: She is; given how long it takes, and how mistakes can't be corrected, she needs to build up more confidence before trying it out.
Question: Can it be a trap to have unlimited ability to correct?
Bresson: It can be frustrating, in one case she found herself with a lot of time to dedicate to one book, and ended up finding a better solution to represent a nightclub ambience from what she did in the previous book, but it was too late to apply to that one.
In another case, she settled by default on orange spacesuits for the astronauts in book one, given she had no idea what was going to be ahead for them; then in the second book they ended up in a forest, which implies green tones, so she was lucky she picked orange and not green in the first place, or they would have ended up blending with the forest environment.
Question: What kind of training does she have on the cultural aspects of color?
Bresson: She has read many books on color: color physics, color optics, color linguistics, etc; she has read Pastoureau for the historical aspects. She once attended a instrumental colorimetry class with BTS³ students and realized they were pretty much dealing with different things, with them discussion color temperature, color curves, etc.
__________
Thanks as always to FSFCPL for his work bringing us the goings-on at this year's Saint Malo festival. We look forward to hearing what QdB 2020 is like.
---
Spam of the day:
Soila Kopp wrote:
Hi there! I'm Dan, Managing Director of [remainder of crap deleted]
Decide on who you are before you show up trying to get me to click on your phishing links..
_______________
¹ Jacobs is the creator of Blake et Mortimer.
[Editor's note: Speaking of Blake et Mortimer, I took the photo at the top of this post while on vacation in Brussels in August of 1999. Seeing their sixth adventure cover three stories high on the side of a building near our guesthouse made me realize both how deep the the Franco-Belgian comics tradition is, but also how thoroughly my kind of place Brussels is.]
² A Lucky Luke book by Morris and Goscinny.
³ Roughly the equivalent of a specialized BTech.
[Editor's note: Thanks to K-pop, it is impossible to search for BTS.]