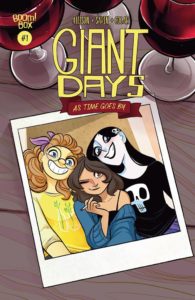 It was eight weeks back that we saw the ending of Giant Days, regular comic series, with the graduation of Esther and Daisy (Susan's medical training continuing), the culmination of a friendship that started three academic years prior (and wedged in between other Tackleford stories for us). We knew there would be one for go-round for the three best friends, and today it's available in the comics shops.
Giant Days: As Time Goes By is a return to the loopy, laws-of-physics-need-not-apply rules that held in the original miniseries, and even into the start of the regular series¹. We've had a lot of the uncontrolled happenstance that comes about from small things — bad housemates, illicit chinchillas, the death of a parent, falling in love, fear of change — and it's only fair to come full circle and remember when these characters weren't quite so grounded². We've seen hints of it as the regular series wrapped up (particularly as Daisy finished her archeology degree and began to learn the most important thing about being an archeologist — avoiding curses), and now it's time to have one last explosion of the fantastical as the ladies settle into their lives.
It all comes down, as all inciting incidents do, to Esther. She's a year out from university, on the cusp of who she will be, and conflicted about how much that person will be her, and how much the diametric opposite. There are, as in the first mini, evil posh girls that must be defeated. True to form, Daisy believes in better natures, Susan in removing organs from those who offend her, McGraw in the avoidance of conflict, and Ed Gemmell in seeking a path with the least potential for bloody vengeance.
I was going to say it ends on a cliffhanger, but that's not right because this is the Proverbial It; there will be no follow on to see how the decisions made turn out (or even what some of those decisions are). It ends, full stop, and while life goes on for those we've followed, we aren't privy to their lives any longer.
For those that have read it, John Allison hast posted a set of annotations and explanations at the Bobbins site, immediately below Ryan and Shelley in the long-ago times, a decade or more of story time before³ what we see in print today. It's one big spoiler, so don't click through until you're ready.
And when you've read the issue, and when you've read the commentary track, take a moment to thank Allison, artists Lissa Tremain and Max Sarin, inker Liz Fleming, colorist Whitney Cogar, and letterer Jim Campbell. Allison will have more stories to tell, the others will tell their own and collaborate with writers, but any time that you find two or more of them coming back together on a project, it'll be special; this was a creative team that hit on all cylinders and made something that got better, month after month, for most of five years. These are comics that will hold up and be just as good any time you go back to revisit them in the decades ahead.
Or, as I plan to, this weekend. It's only about … I'm going to ballpark it at about 1300 pages, a section of my bookshelf that will never be retired.
---
Spam of the day:
The 3 Deadly "Small Shop" Mistakes (and how to avoid them!)
Woodworking spam today, in honor of Graham McGraw. He's had a hard time this year, and correcting bad carpentry practice will surely lift his spirits.
_______________
¹ Lest we forget the introduction of one of the most important supporting characters, McGraw, was accomplished by the exploitation of Esther's drama field, where things just happen around her to the benefit of maximum chaos.
² Yes, I just described Esther, Daisy, and Susan as grounded, a word properly applied to McGraw, Ed Gemmell, and Nina.
³ Time in and around the Tackleverse never was much more than a series of suggestions, after all. The last Bad Machinery story would have taken place a good five years past As Time Goes By and my goodness, that was finished more than two and a half years ago.