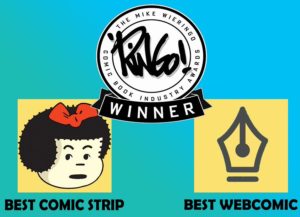 Hey, some stuff happened since I saw you last, we should talk about that.
The Ringo Awards took place at Baltimore Comic Con over the weekend, and there were some winners with relations to webcomics. We don't talk about the Ringos a lot here at Fleen, they've got an odd jury+fan voting component that can lead to some … let us say mass responses to the ballot box.

Am I going to say that comics on Webtoons or Tapas are unworthy of inclusion when considering for awards nominations? Heck, no. But do I believe that a single creator that posts only on those platforms and has work that is … let us say Tumblresque in nature should be considered as the best of the best in comics? Let us say, one last time, that such folks were perhaps over-represented in the ballot.

All those sayings being said, the Best Comic Strip Or Panel went, as is right and proper, to onetime webcomicker Olivia Jaimes for Nancy, and Best Webcomic went to The Nib, who apart from the whole losing their financial backing thing are having a very good year. A full list of nominees and winners has yet to be posted at the Ringo site¹, but The Spurge has you covered.

I may have noted, on some several occasions how the New York Times appeared to be bending over backwards to not acknowledge the crucial place that Raina Telgemeier occupies in modern literature, and the culture at large. Today, they seem to be extending an olive branch, devoting a significant chunk of interactive space in their books reportage to Raina, and Guts, and her creative process.

How Raina Telgemeier Faces Her Fear by Alexandra Alter, with production by Aliza Aufrichtig and Erica Ackerberg, is part interview, part behind-the-scenes look, and all stuffed with goodness for anybody that wants to see what the steps involved in creating a page of comics looks like. Just be sure to take your time scrolling; on my copy of Firefox, once a page went from thumbnails to pencils to inks to color, it didn't go back. You can re-experience the transforms by refreshing the page.

And looking forward, Maris Wicks would like you to know that the New England Free Lecture Series continues this Thursday, 24 October, at 7:00pm, with a discussion of using comics for sci-comm presented by … Maris Wicks! From the NEA website:


Registration is requested for all programs, which start at 7 p.m. in the Aquarium's Simons IMAX® Theatre unless otherwise noted. Programs last approximately one hour. Most lectures are recorded and available for viewing on the lecture series archive page.

Also on that page, the fact that there's a cash bar from the time the doors open at 6:00pm until the start of the talk. You can register here, then make your way to 1 Central Wharf in Boston on Thursday. If you get there early, NEA's a great aquarium that you should absolutely spend some time perusing. They got squid!
---
Spam of the day:
Hello! If you're reading this then you're living proof that advertising through contact forms works! We can send your ad message to people via their feedback form on their website.
You are sending me your crap through my contact form, and you expect me to immediately turn around and give you money so you can pester other people? No. Die alone and unmourned, you parasite.
_______________
¹ This is a proud tradition; I can't think of a single comics award program that updates their own damn website in less than a week after handing out the awards. Get with it, peoples!