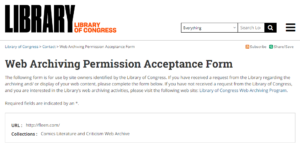 Received this morning in my email:
To Whom It May Concern:

The United States Library of Congress has selected your website for inclusion in the historic collection of Internet materials related to the Comics Literature and Criticism Web Archive. We consider your website to be an important part of this collection and the historical record.
Gotta say, that perked me right the hell up, especially considering that I started the day with a dentist appointment¹. It's been two-plus years since the LOC incorporated whole webcomic archives into their digital collections, and at the time it was noted Megan Halsband, reference librarian in the LOC's Serial and Government Publications Division, was hoping:
to develop a literature and criticism web archive collection at some point, she said, as well as looking at other aspects of both webcomics and web culture — "looking at fandom and cosplay and other areas that are of interest to folklorists and popular culture historians and enthusiasts … because I think there's a lot of potential overlap there."
I did not for a second think that they would ever refer to we at Fleen in that statement. But it is a legitimate thrill that this weird little hobby of hack webcomics pseudojournalism and opinionmongering is actually seen as of use. The LOC Web Archiving Program informs me:
With your permission, the Library of Congress or its agent will engage in the collection of content from your website at regular intervals over time and may include it in future collections.

The Library will make this collection available to researchers at Library facilities and by special arrangement. The Library may also make the collection available more broadly by hosting the collection on the Library's public access website no earlier than one year after our archiving has been completed.
So after I sent an email to the LOC folks via their website to confirm that this was not an elaborate practical joke or phishing attempt², I followed their link to the requisite form and granted the permission. I suppose this means I have to go back and try to clean up 14 years of link rot³ and possibly moderate my language so as not to scandalize future researchers4. I suppose it means that when I (or Fleen Senior French Correspondent Pierre Lebeaupin) make the case for press badges at some future event, this will make the case just a little bit stronger.
But mostly it's given me a little bit of a kick in the pants, a desire to make sure that what I do here is worth it. For that, thanks to the LOC staff, thanks to all your readers for sticking with us, and especially thanks to all the creators, who are the reason we're living in a New Golden Age of comics. We'll be back tomorrow with more of what we do.
---
Spam of the day:
Yeah, I'm in too good a mood to go digging in the spam filters.
_______________
¹ My teeth are in good shape, thanks for asking.
² And may I say? They got back to me in a little more than two hours, which is pretty damn impressive.
³ I will not be doing this. If you ever get a bad link to somewhere offsite, sorry. If you ever get a bad link to a page on the site, try replacing the http://amultiverse.com/fleen part of the URL with http://fleen.com. I edit those whenever I come across them, but I'm not messing with 4000+ posts worth of unstructured data and hoping I don't mess anything up.
4 Yeah, won't be doing that either. Hello, serious academics! We at Fleen have, at times, gotten colorful with our idioms. Deal.