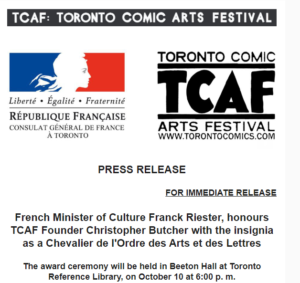 Something that makes comics folk so damn good.
Firstly, you've got the 49th issue¹ of The Unbeatable Squirrel Girl, written by The Toronto Man-Mountain (and Nexus Of All Webcomics Realities, Northern Division) himself, Ryan North (with art, it should be noted, by Erica Henderson, Derek Charm, and various guest contributors, colors by Rico Renzi, letters by Travis Lanham, and edits by Wil Moss).

This brings us to nearly the end of a period of time at Marvel that comics could be a) fun, b) all-ages appealing, and c) infused with a genuine originality that transcends the usual cape comic. All because a one-note joke character started rattling around North's noggin' and he decided to see what happens if you made the ability to listen and turn villains into not-villains a superpower.

Also punching. And computer science. And the ability to talk with squirrels. But mostly the listening.

All while inspiring a legion of kids to pick up comics, and especially girls to see that they can be the one that saves the day. Without spoilers, Squirrel Girl — Doreen Green — is having the worst day of her superheroic career, but she's still unbeatable because he's got friends, and only the most unredeemable wouldn't want to help her. She's selfless and self-sacrificing to the end, and if it seems like she's going to be beaten, well, there's a couple of friends she made along the way² that have yet to show up.

I halfway don't want to read issue #50 so that it never ends. On the other hand, North's built up such a strong characterization for Doreen & friends, so much flawless storytelling, that whoever might do their own take on Squirrel Girl in the future, they won't dare retcon or change things overly much. Squirrel Girl turns enemies into friends will be as iron-clad a rule as Uncle Ben stays dead. While I suspect I won't ever love any of those Squirrels Girl in the future as much as North's, the world will be better off having the character pop up again from time to time to eat nuts and kick butts.

Secondly, if you're in Toronto tomorrow evening, say around 6:00pm at the Toronto Reference Library, you can watch a piece of trans-Atlantic culture happening. Specifically, the French Minister of Culture, Franck Riester, will honour (the Canadian spelling feels appropriate on this occasion) Christopher Butcher, founder and showrunner of TCAF, for his promotion of comics (in general) and bandes dessinées (in particular), and for spreading knowledge of French comics to the world.

Specifically, Butcher will be invested as a Chevalier de l'Ordre des Arts et des Lettres, a Knight of the Order of Arts and Letters, in the presence of the Tudor Alexis, Consul General in Toronto, and Kareen Rispal, French Ambassador to Canada. The Order recognizes significant contributions to the enrichment of French cultural heritage, and is limited to no more than 200 chevaliers each year (along with up to 80 higher-ranking commandeurs and officiers), the vast majority of them French citizens.

Foreign recipients include the likes of TS Eliot, Jorge Luis Borges, Stevie Wonder, Nadine Gordimer, Seamus Heaney, Frederica von Stade, Dexter Gordon, Katsuhiro Otomo, Margaret Atwood, Isao Takahata, William S Burroughs, Rudolf Nureyev, Elton John, Roger Corman, Akira Toriyama, and David Bowie. Note the presence on the list of the occasional Nobel laureate, or The Muppet Show guest star.

I am reliably informed by Fleen Senior French Correspondent Pierre Lebeaupin that, due to that whole Egalité thing, Chevalier Butcher should not be addressed as Sir, but all the same: on Friday, I'd advise Butcher to avoid Agincourt, as that place is not welcoming to those but yesterday dubb'd knights.

In all other matters, we at Fleen congratulate Butcher, and recognize that all his work so far — and all the work yet to come — was all done not in hopes of honour, but for the love of comics³.
---
Spam of the day:
Capitals take on their mastery of the Bruins
This continues for another … thirteen … fourteen … fifteen paragraphs of hockey, with every link's URL removed and replaced with a Ukrainian mail-order bride site. Okay?
________________
¹ I refuse to use the nut-themed pun in the word that means "one before the end" that ends in -ultimate, sorry Ryan.
² And North is dropping references to things that happened waaay back in the first issue, which means either he's skilled enough to play a years-long game, or he's skilled enough to make it seem like he's playing a years-long game. Good job, either way.
³ Manga, too, in case somebody in the Decoration Bureau of the Cabinet Office feels like bestowing the Order of the Rising Sun.