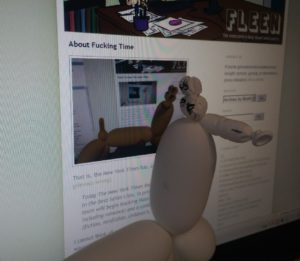 It's a time that we look towards the 10 o'clock position of North America, and catch up with what's happening in that corner.
Firstly, if you look around the social media networks, it appears that Emerald City Comic Con has started building up their show floor and Artists Alley for 2020, with what seems to me to be an unusually high number of I didn't get in-type postings from people that are local, have exhibited previously, or are relatively big names. From my remove (it's on the far side of the country and I've never been), ECCC seems to have been on a yo-yo trajectory since Reed!Pop bought it, with some years successful and some years terrible, and no two creators necessarily agreeing which years are which.
We'll see how the waitlists shake out, or who splits booth space with whom, but with NYCC just around the corner and that show having shifted nearly 100% away from comics to broader nerd interests¹, it's not a surprise if EmCity follows. The show under Jim Demonakos's leadership was a marvel of comics focus, but we all knew that's not where the money R!P is chasing is.
Anyway, if you decide to make your way northward and westward in the months prior to Seattle's long weekend of nerdery², you'll find some nice comics-in-the-community going on in Vancouver these days. From the fine folks at the Cloudscape collective:
Comics In Transit has been an ongoing project that takes one-page comic stories, enlarges them, and installs them in bus shelters for people to read on their daily commute. Each series features artworks based around shared subject matter, often leaning towards education and social issues. In 2017, Comics in Transit featured stories told by refugees about their hardships coming to Canada.

This year, Comics In Transit focuses on stories of Indigenous family history, written and drawn by Indigenous BC comic artists. This series will be displayed in Vancouver bus shelters throughout October 2019, and an additional art exhibition of the series will be hosted by the Red Gate Art Society from September 26th — October 15th.
The astute among you will recognize that was yesterday that the exhibit opened, so there's no point in me telling you about the reception that took place, but I'm certain it was super dope. You can still catch the exhibition for another two and a half weeks, featuring the work of featuring Alina Pete, Cole Pauls, Gord Hill, Michael Yahgulanaas, Chenoa Gao, Kyle Charles, Tim Linklater, Raven John, Stephen Gladue, Whess Harman, and Ocean Hyland. The Red Gate Arts Society is at 1965 Main Street in Vancouver.
---
Spam of the day:
NEW Web-App Allows You To Legally Hijack Traffic And Authority From Wikipedia AND YouTube To Earn Affiliate Commissions In 24 Hours Or Less – in ANY Niche!
Any time you are trying to conflate "hijack" with "legally", I'm going to suspect that you aren't really getting the best advice possible. Like, stop listening to Char Char Binks.
_______________
¹ I don't think me making fun of Reed!Pop for giving a huge chunk of Javits floor space to Chevrolet made them drop me from their press list the next year. I do think that becoming the sort of show that would give a huge chunk of floor space to Chevrolet would logically lead them to conclude that a member of press who'd be over in the Artist Alley just about exclusively, talking to the few remaining webcomics folks isn't really promoting the show that they're putting on.
² At least, the one that isn't PAX.