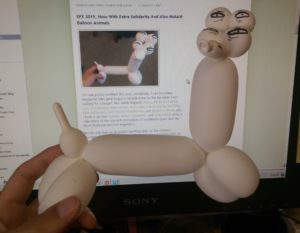 Last week had its ups and downs, huh? I will note with some grim satisfaction that Ida Hatke's memorial page has been overwhelmingly supported by generous people. I'm sure that Anna and Ben and their daughters would prefer anything to the reality of Ida being gone, but I am glad that they needn't add lifelong debt or bankruptcy to their heartache. The need persists, even after the Hatkes begin to heal, so if you have it in your means to donate, please do so. Requiescat in pace, little one. We love you and will miss you.
On a badly-needed lighter note, I've decided to check in with Bob The Unsettling as he slowly deflates; the most unsettling thing is not that he's smaller, it's that his head keeps rotating further back, Exorcist-style.
And getting back to comics, let's check in with the Cartoon Art Museum:
The Cartoon Art Museum welcomes Kim Dwinnell, creator of the popular Surfside Girls graphic novel series for a presentation and booksigning on Saturday, October 12, 2019 from 1:00-3:00pm. Dwinell's discussion and booksigning are free and open to the public.
Sounds good. Anything else?
The Cartoon Art Museum presents an exhibition of original comic book art from the heyday of storied publisher EC Comics, Pre-Code Horror: Scary Stories And Ghastly Graphics from EC Comics, on display from October 12, 2019 through March 1, 2020.
There's no announcement yet, but the mounting of an exhibition like this usually features a reception with food and/or booze. I'm guessing sometime adjacent to Halloween for thematic appropriateness. Keep your eyes open and don't go down to the basement if you hear weird noises, just in case.
---
Spam of the day:
[deleted]
Every single one of you lowlifes that tried to spam last Friday, you're trash. I've locked the post so Ida never has to compete with you.