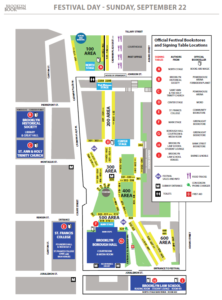 Hey, folks in the Greater New York City region, you know that it's the Brooklyn Book Festival this weekend, right? And that in addition to being free, BKBF will have events and talks and interviews and discussions all over the borough, which may include not only erudite discussion of the events of the day, but also some of your favorite comics folk? If not, then let's talk.
Comics-related people at BKBF will include Ebony Flowers (off her Ignatz win last weekend for Promising New Talent), Melanie Gillman, Sarah Glidden, Lucy Knisley, MariNaomi, Dylan Meconis, Ben Passmore, Summer Pierre, Frank Santoro, and Magdalene Visaggio. There are others whose names I don't recognize, and some of them will show up below.
One of the great things about the BKBF bio pages is it links you direct to appearances by the folk in question, so you may want to check out the following events (all on Sunday):
Everything Is Horrible: Comics As Satire And Witness
noon at Brooklyn Historical Society's Great Hall, 128 Pierrepont St
Moderated by Glidden, with Passmore, Jérocirc;me Tubiana, and Mark Alan Stamaty talking about using comics to challenge the worst timeline.
Anxious in Public: Serious (and/or Hilarious) Comics About Real-Life Tough Stuff
1:00pm at St Francis College's Founderss Hall, 180 Remsen St
Knisley, along with Catana Chetwynd and Adam Ellis, discussing the road to motherhood, the evolution of relationships, and the realities of mental illness.
The Living City: Graphic Narratives On Place, People, And Soundtracks
3:00pm at Brooklyn Historical Society's Library, also 128 Pierrepont St
Pierre and Santoro in conversation with the invaluable Calvin Reid on cities as characters.
We Need To Talk
3:00pm at Brooklyn Historical Society's Great Hall
A discussion on autobio, with Flowers, Erin Williams, and author Mira Jacob.
YA On Fire: A Teen Comics Showcase
5:00pm at Brooklyn Historical Society's Great Hall
With MariNaomi, Gillman, Meconis, and Visaggio talking about what makes YA, YA.
There's plenty of other events, with start times from 10:00am. There's also plenty going on Saturday, and points to BKBF for making Children's Day the start of the festival, instead of the end (as seen in so many events). Luminaries such as Mo Willems¹ and Jon Scieszka will be paneling, and there's a session specifically on making comics at 1:00pm with Ivan Brunetti. It's largely different venues from the comics talks on Sunday, so plan your travel accordingly.
And heck, I should point out that events have actually been underway all around the city since Monday (including a panel on translating Japanese, European, and Brazilian comics, tomorrow night at 6:00pm at NYU), continuing until Monday next². Much more information at the BKBF site, with a map of the Sunday venues³ available for your perusal.
---
Spam of the day:
Thanks for Registering at Acvark Fire Equipment
There's a little too much Russian in this email for me to click on anything from what purports to be Jamaica's #1 supplier of fire extinguishers.
_______________
¹ Willems is also this year's Best Of Brooklyn Award winner.
² When we'll see if Lauren Duca can recover from that Buzzfeed profile wherein she pitched a major wobbly, via the occasion of her book launch.
³ Drawn and Quarterly will be at booths 234 and 235, and Iron Circus at booth 122. But please note that the Heliotrope and Baffler listed on the vendor page are not the ones you're thinking of.