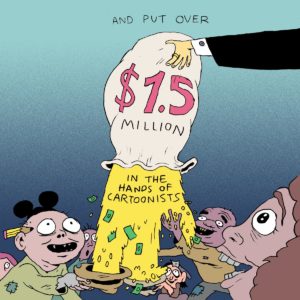 This being the occasion of Matt Bors noting that The Nib has, despite some prominent hiccups, been part of our media landscape for six years, publishing more than 4000 comics, and paying cartoonists more than US$1.5 million¹.
I'm going to quote from an email that Bors sent to me — I've been on the mailing list since backing the Kickstarter for the print version — because too many of you may not have seen it. Bors says the recent funding drive raised US$15,000 — presumably, only counting the initial charge against those credit cards, and a similar amount will continue each month — that means maybe a few thousand people got it, plus however many were previously signed up.
Not good enough. If you read comics anywhere you need to know what Bors and his co-conspirators are up to. You also need to give them money, but let's start with a little basic info:
I'm re-establishing the regular lineup as much as possible. That means Tom Tomorrow, Jen Sorensen, and Matt Lubchansky in there as often as possible, along with Joey Alison Sayers, Gemma Correll, Kasia Babis and all the others who contributed short satire on a regular basis².

I've always wanted The Nib to build up younger political cartoonists as well as publish the top ones so the regular lineup will include work from recent Locher Award winner Chelsea Saunders, last year's Locher award winner Charis JB, and Niccolo Pizarro.

For longer non-fiction work, I am currently publishing comics that were finished before leaving First Look and will begin commissioning more of that type of work soon. These kind of comics are more time-intensive and expensive, so there will be less of them than when we had an editing staff of four, but it's still a crucial element of the publication to me.

The Animals issue of the magazine is in the works — Drugs is after that and I've even got cover art for the issue after that — but I've started thinking about other print projects The Nib could take on. So there's a big book collection on the horizon: an anthology of our best queer comics. We have such a breadth of queer history, non-fiction, and satire comics that it seemed an obvious fit for a nice themed collection of some of the work we put out over the last few years. Expect to hear more about that next month.

Oh, and we'll be launching an online bookstore soon! And doing more merch. And surely other things.
With Bors being the sole editorial and publishing decision-maker, I imagine that a number of projects that were pending or actively back-burnered by competing interests will now make progress based solely on budget. He's not promising anything, but I'd imagine that getting Lubchansky, Eleri Harris, Andy Warner, and Sarah Mirk back on editorial staff would be a priority (if memory serves, it was about a year before Harris was added as Deputy Editor and at least another year before Lubchansky became Associate Editor, so it could be a while).
What Bors isn't doing is standing still. In the face of losing nearly all of his funding, he is moving forward and making plans to start new projects under The Nib's banner. He is exhibiting the tenacity of the cockroach, a phrase which was once used to describe the interview style of contributors to The AV Club, and a description which they took as a mission statement (even using it as the title of their first print collection), and which brings us back to the top. All that remains is to remind you to support The Nib and to have a good weekend.
---
Spam of the day:
Hello!! Surprise Your Husband With This Beautiful Wood Guitar Pick !!
I would be more surprised to have a husband, to be honest.
_______________
¹ Some of which must have involved some serious logistics. I could name at least two dozen countries of origin for contributors to The Nib, including possibly countries with economic systems not easily accessible to a USAian like Bors. For example, would a Danish citizen who leads tours in Iran be subject to sanctions on economic relationships? I don't know, but I'll bet Bors has had to find out.
² Me, I'm hoping for a lot more Pia Guerra because damn she takes no prisoners.