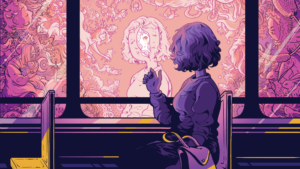 After all, Todaybor Day is Labor Day. But then I saw the news on the Twitters — Zainab Akhtar launched her final ShortBox project of 2019 and it's a collaboration with Rosemary Valero-O'Connell. Specifically, it's a 235mm x 168mm (approximately 9.25″ x 6.6″, or a hair under ISO B5 paper size) volume collecting three stories, two of which are brand new, and one of which is the superlative What Is Left.
What Is Left was produced as a mini in 2017-18 (I got my copy at MoCCA 2018) and is very out of print. It's a tale of memory and loss and identity and premised on a story conceit that is startlingly original. Because it's Valero-O'Connell, I don't mind buying it again (in a larger size) to get the two new stories, which are described as:
Don't Go Without Me (also the collection title): Two lovers sneak out for a night out on the town — a town where spirits and the supernatural exist as a realm within and alongside our world, with humans crossing over frequently. The lovers get separated, and must barter with stories in exchange for clues as to where the other may be. But, unknown to them, each time they gain a morsel of information, they lose something, too….

Con Temor, Con Ternura [With Fear, With Tenderness]: For years, the residents of a small, ocean-side town have been living in the shadow of the sleeping giant who is prophesised to one day wake up and lay their world to waste. As the foreseen date of their impending doom draws near, the town decides to put on a festival on that very same night, to celebrate their lives and face whatever fate awaits them together.
I am all in. The Kickstart campaign has a relatively large goal — £29,000, or about US$35,300 — to fund a significantly large print run, one that will sustain stocks for the next couple of years. Akhtar believes (as do I) that Valero-O'Connell is about to become a top-tier creator, and as more people discover her work they'll want to have books to sell¹. Thus, there will be 10,000 copies of Don't Go Without Me printed (I can't recall another indie title with such a large run), which will start shipping in November. This November. The month after next. This is less a pledge and more a pre-order of a gift to yourself this coming holiday season.
The rewards are simple — get a PDF and/or a print copy, or a retailer's bundle. Three people can pledge £1000 for a lifetime subscription to ShortBox. Stretch goals make the book prettier, or produce small, additional items (a sticker, a process zine) for those who are getting print copies. That's it. The campaign runs until 2 October, by which time the print job will likely we well in hand in order to meet the delivery date. The only way this could be better is if it were available now so I could take my copy to SPX and have Valero-O'Connell sign it. Some future show, then.
Don't sleep on this. There's a big, ambitious goal that benefits not only those of us pledging now, but literally the next couple thousand people that discover how good comics can be. So much of what's gone into ShortBox collections (or, for that matter, so much of what indie creators self-publish) is only available for a brief period, so it's a welcome change to see works that are being made for the long haul.
---
Spam of the day:
Increase majestic Trust Flow – Guaranteed
Thanks, I don't need your boner pills … what? SEO services?
Really?
_______________
¹ After a book or two of her own, these earlier, shorter works will be what people are scrounging for, like me ordering copies of Tilie Walden's pre-Spinning books earlier this year. Speaking of which, Walden's Are You Listening? releases a week from tomorrow; I trust that you are now anticipating it as anxiously as I am.