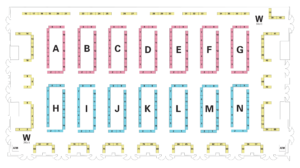 One of the things I love about the SPX exhibitor listing is that it's geographic in nature rather than alphabetical by name. You can see who's near who, and plan out which of the blobby pods you want to hit first (even though the floor is small enough that you can see everybody pretty easily). Here, then are the folks we at Fleen noticed on the 650+ deep exhibitor list, which was due for final update today.
Pod A
Britt Sabo (A5B), Collen AF Venable (A9), and onetime Fleen scribe Anne Thalheimer (A11B).
Pod B
Kevin Czap and the associated Czap Books folks (B4B), Ananth Hirsch and Yuko Ota along with George Rohac (B9; I wonder who they had to bribe to get that table spot).
Pod C
Lauren Davis (C3); I'm not saying Pod C is a bad place, just that I didn't recognize names.
Pod D
D1 Ben Sears (D1), Eric Colossal and Jess Fink (D2), Megan Rose Gedris (D4A), Becky Dreistadt and Frank Gibson (D9), and Gigi DG (D12A).
Pod E
Keith Knight (also the Ignatz MC, E1), Beth Barnett (E4A), Mike Holmes (E5B), Ben Passmore (E10B), Darryl Ayo Brathwaite (E10B), Ronald Wimberly (E12A)
Pod F
MK Reed (F1), Paulina and Savanna Ganucheau (F8), and Bianca Xunise (F12A).
Pod G
NBM Graphic Novels, including Jessica Abel (G1-2).
Pod H
Sara and Tom McHenry (H12), and Evan Dahm (H14).
Pod I
Shing Yin Khor (I4A), Julia Gfröer (I5B), Sarah Horrocks (I6A), Katie Skelly (I6B), Tony Breed (I7A), Monica Gallagher (I8), Penina Gal and Radiator Comics (I9), and Carta Monir and Diskette Press (I14).
Pod J
Maia Kobabe (J4B), Emi Gennis (J5B), and Kory Bing (J10).
Pod K
Carla Speed McNeil (K1), Gemma Correll (K2), Audrey and Jamie Noguchi (K9), and Drew Weing (K10-11).
Pod L
Retrofit Comics (L2), Danielle Corsetto (L8), Eleri Harris, Matt Bors, Matt Lubchansky, and Sarah Mirk, which is to say, The Nib (L9).
Pod M
Annie Koyama and Koyama Press, including Connor Willumsen, Daniel Nishio, Ed Kanerva, and Emily Carroll (M1-2).
Pod N
Dustin Harbin but not his bike (N2), and Secret Acres (N3-4).
Left Side Wall
Drawn & Quarterly including Ebony Flowers, Eleanor Davis, Kevin Huizenga, and Sylvia Nickerson (W1-4), Jessica Trevino (W7A), ShortBox (W8), Carey Pietsch (W9A), Cathy G Johnson (W9B), and Meredith Gran (W10A).
Back Wall
Hope Nicholson (W19), Self Made Hero including Sam Humphrey (W23-24), Mari Naomi (W27A), Box Brown (W27B), Kori Michele Handwerker and Melanie Gillman (W30), TopatoCo featuring Abby Howard, Chris Yates, Elliot Jasper, Holly Rowland, KC Green, and Tom Siddell (W31-33), Out Of Step Arts featuring Rebecca Kirby, Rosemary Valero-O'Connell, and Venesa Del Ray (W38-39).
Right Side Wall
Alison Wilgus (W41), and Fantagraphics featuring Jaime Hernandez (W50-54).
Front Wall
Top Shelf including James Kochalka, Kim Dwinell, Leigh Walton, and MK Reed (W56-59), Ru Xu (W60A), Natalie Riess (W60B), a contingent of Danish comic book artists (W68-69), Steenz (W71A), Blue Delliquanti (W71B), Iron Circus including Amanda Lafrenais and C Spike Trotman (W72-73), Lucy Knisley (W75), and the CBLDF including Alex Cox, Chris Ware, and Raina Telgemeier (W80-83).
As always, I very possibly missed you or your favorite; drop us an email and we'll update.
The Small Press Expo runs Saturday, 14 September (11:00am-7:00pm) and Sunday, 15 September (noon-6:00pm) at the Bethesda Marriott North in Bethesda, Maryland.
---
Spam of the day:
Your very own portable oxygen concentrator
I do not suffer from CHF or other respiratory conditions, and besides, I can get the pure stuff in the green cylinders. It's good for hangovers.