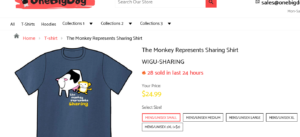 This, in this particular circumstance, being a clearly full of crap website that's selling simply dozens — dozens, I tell you! — of stolen TopatoCo t-shirts every day. A full of crap website that's stolen not only the designs (which are sarcastic air quotes submitted to us by independent designers close sarcastic air quotes) but even the SKUs. They may or may not be associated with another full of crap website that appears to lay off the stolen webcomics designs but has lots of other stuff stolen too, like traditional Haida designs that non-Haida people don't get to use or sell. And the most hilarious part? Their shitty knockoffs (if in fact they actually produce and send anything) are priced above the genuine articles.
Normally, I'd tell you to politely contact the full of crap website to very politely ask them what the fuck, but a) they've done their best to hide who they actually are (although it appears the possibly-associated second crappy website keeps an address in Delaware that coincidentally houses a consultancy that provides a incorporation services and possibly a mail drop), and b) Jeff Rowland is already on it, and c) they may have roused the wrath of R Stevens III, in which case I doubt you'll even find DNA when he's done with his vengeance.
So instead, how about we look at some shirts that are both official and original?
From TopatoCo, there's new Lucy Knisley designs, including her take on the performatively/toxicly masculine tee designs that have been making the rounds lately. I'll admit it, I do like all the responses to the GRRRRR I AM A WALKING COMMENT SECTION GET OUT OF MY WAY GRUNT designs, but I stand by my belief that the originals are just wordier variations on Roast Beef's shirt.
Meanwhile, Yuko Ota and Ananth Hirsh are settled in at their new storefront and celebrating by bringing back their ZooLOLogy design for a limited time only. Also, if you missed out on the Kickstart for their latest print collection, Wander, the after-campaign pledge add-on process is live and you can pick up a copy for yourself before it hits the store at a future date.
Finally, they'll be at Flame Con this weekend, which I realize now that I've not been through the guest and exhibitor lists to let you know who's gonna be in Midtown Manhattan on Saturday and Sunday. So: Rosemary Valero-O'Connell, Melanie Gillman, Kate Leth, Taneka Stotts, and Steenz are among the guests; Alison Wilgus, Bianca Xunise, Bill Roundy, Blue Delliquanti, Carey Pietsch, Catuallie, Jakface, Megan Rose Gedris, and TopatoCo will be among the exhibitors¹.

The fun goes down at the Sheraton Times Square, from noon to 8:00pm (Saturday) and noon to 6:00pm (Sunday). Tickets are US$25/day or US$40 for the weekend. I'd be there to say hi, but I've got EMS duty all weekend. Y'all have fun in my stead, 'kay?
---
Spam of the day:
Big Ass-Photos – Free Huge Butt Porn, Big Booty Pics
Holy crap, this spam has adopted the [adjective] ass [noun] rule from xkcd #37.
_______________
¹ Unfortunately, the website doesn't link the exhibitors to the floor map, and those that qualify as publishers (around the perimeter of the main floor) appear not to be listed on the site at present. But there will be several creators associated with George Rohac's Creative Havoc, and given the likes of Iron Circus and Hiveworks are listed as Sponsors, I'd presume they have a presence as well.
Fortunately, the scale of the show is such that you probably won't miss out on anybody, even if you didn't specifically know they were going to be there. If the exhibitor info updates before the show, we'll add to our listings here.