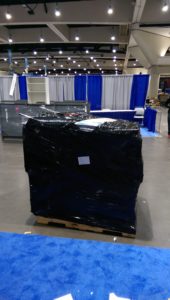 Sunday was crazy, I saw a really great panel on the differences between technology and magic in fiction with the best moderating job of the show by Lilah Sturgis; more on that when I get to it. Going to be a lot of recaps in the coming week, folks.
Pack out was the usual elegant chaos, many goodbyes were said, and we'll see you all next time. Go safely, my friends.
Pictures:
A great Aziraphale (a very good Crowley¹ was one of the photos lost in transfer yesterday) and a very good Princess Azula and Avatar Aang were the only ones that really caught my eye. Sunday is traditionally the day I play Cosplay Or Just Dresses Like That?, and this year had a lot of ambiguity.
_______________
¹ All the best Crowleys were women; guys just weren't willing (or able) to commit to that hip-swaying swagger that David Tennant committed to. Angels and demons don't have gender, so don't walk like a dude!