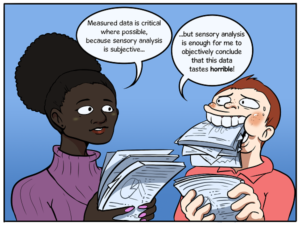 A bunch of forthcoming stuff has been announced, which I thought we ought to be familiar with. Let's dig in, shall we?
Lucy Knisley does memoir like nobody else. I mean, her ability to capture the mood and tenor of a situation in her completely authentic voice is like an inward-focused Studs Terkel. We've seen her travel the world, eat, marry, and have a child, now we're going to see what motherhood is like:


Cover reveal! Check out the cover for my book, "Go To Sleep (I Miss You)", which collects my sketches and comics from my days (and nights) of early parenthood. Out February! https://us.macmillan.com/books/9781250211491 …
#babies #newborns #breastfeeding #birth #comics #thelongestshortesttime

Did I mention that she's a comicking machine? It will be only one year since Kid Gloves released that we get Go To Sleep (I Miss You).

Last July, the world learned not only that there would be an original Steven Universe movie, but also that Becky Dreistadt would be the lead character designer. At the time she couldn't say that the story took place after a time skip, but the poster reveal shows a clearly older, taller Steven¹ as well as a new villain. Entertainment Weekly has the first look.

I'd ask Dreistadt about it next week in San Diego, but I know she's gonna be under killer NDAs, so let's just consider — this is a movie that's already announced Patti Lupone (as Yellow Diamond) in the cast, so at least one Diamond is still on Earth and this new baddie has to be a credible threat to the team that took down the Diamond Authority. Citizens are urged to remain calm until the air date.

You know what we haven't had in waaay too long? A collection of Scott C's Great Showdowns. So you know what Scott C just teased over on The Gram? News of a new collection of Great Showdowns. Teased is the right term, too, since all we have is a title (Legend Of The Great Showdowns) and a super-vague release date (2020). You know what? I'll take it.
In terms of scientific journals, you don't get much more prestigious than Cell. It's pretty much up there with Nature and Science, and within the family of Cell journals there is a new one, Matter, which is devoted to Materials Science². Volume 1, issue 1 has just released, and there appears to be a section for discussion of issues that are less hard-science-and-numbers in nature, things that scientists should keep in mind as they are Doing Science, but also dealing with people who are Not Scientists. This section is called Matter Of Opinion and the inaugural iteration is titled On The Sensory Analysis Of Matter And Materials.

Very interesting, Gary, but what are you talking about this? What's it got to do with webcomics? Excellent questions, Sparky. Because this first Matter Of Opinion features an illustration by Lucas Landherr and Monica Keszler, names that should be familiar if you recall Landherr's contributions to STEM education via comics, Science The World. Landherr, one should recall, is one of the most highly regarded STEM educators in the US university system³, as well as the proprietor of Surviving The World, and Keszler formerly one of his Chemical Engineering students and also an animator. It hasn't been said that Landherr and/or Keszler will continue to provide comics to the journal, but it hasn't been said that they won't, either.

And in the ultimate in first looks: HarperCollins announced today the formation of a new graphic novel imprint, HarperAlley, under the editorial directorship of Andrew Arnold (formerly an art director and acquisitions editor at :01 Books). The HarperCollins backlist (which includes Scott McCloud's Comics trilogy and Noelle Stevenson's Nimona) will be joined by about 30 books a year, starting Fall of 2020.

That is an insanely close time. To release books in the Fall of next year, they need to already be pretty much done with the editorial process and well into the production cycle. Recall that when Gina Gagliano got headhunted by Random House in May of last year, the first books were set for 2020. Arnold is trying to do what Gagliano is doing in half the time. And the thing of it? With what he learned at :01, he'll very likely succeed. :01 Books is looking as much an incubator of the next generation(s) of publishing leaders as it is an imprint.
---
Spam of the day:
Action requested: Regarding your subscription …
This claims to come from Sears. The only communication I want from Sears is a notification when Brandon Bird decides to do something Sears-related.
_______________
¹ And hey, we saw Stevonnie shaving last season, so a puberty-affected Steven so it's rational to expect some rapid changes from Steven.
² I prefer to read a second meaning into the title — these are things that matter.
³ Relevant part of his CV: American Institute Of Chemical Engineers 35 Under 35 Award, 2017; AIChE Award For Innovation in Chemical Engineering Education, 2018; American Society Of Engineering Education Northeast Section Outstanding Teacher Award, 2016; ASEE Chemical Engineering Division Ray W Fahien Award, 2019, Fostering Engineering Innovation In Education Award, 2017; Dr RH Sioui Award for Excellence in Teaching, 2015; Omega Chi Epsilon Faculty Member Of The Year Award, 2015, 2016, and 2018.