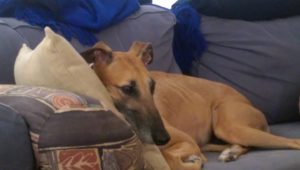 Gotta take care of the pooch today. Looks like it might just be a one-day thing and she's starting to act like she feels a little better, but she's still out of sorts. To make up for it, please enjoy an extra-special Spam of the day, and I will be sure to post any further responses from Dorian. Talk to you tomorrow.
---
Spam of the day:
Dorian wrote:
Hello,

I would like to know if you are selling your domain name fleen.com? because I would be interested to buy it from you

have a nice day

Dorian
Hi Dorian,
Sure, I'll sell.
To account for the effort of reporting, editing, and writing on the site, I will require US$1.37/word of content. For brand recognition and accumulated goodwill, I will require US$4.82/word. The site registration itself is worth US$12.95, which I am willing to provide gratis if you meet the price for the rest.
I estimate I've written about 2.3 million words, meaning the cost for Fleen.com and all of its intellectual property will be approximately US$14.237 million; I can provide a more accurate accounting as we get closer to finalizing the deal.
Please remit to me a certified check in the amount of 15% of the above total as a non-refundable deposit against final costs to obtain exclusivity. For a period of time not to exceed 180 days from the time the check clears, I will not accept any other offers, and you will receive the right to meet any offers that exceed the amount above.
Gary