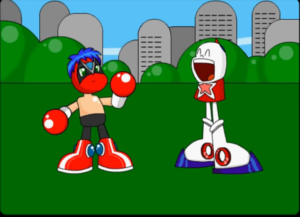 Hey there. Let's catch up with some stuff over at the Kickstarter, yes?
---
Spam of the day:
The guy lost 84 lbs
Wait, which guy? Stinko Man? Because everybody says he's the guy, and I wanna be the guy, too!
_______________
¹ Disclaimer: he hosts this page, was the one that prompted me to start it in the first place, and owns my soul.
² And let's acknowledge that was approximately the time that Jon and his wife had a high-risk pregnancy with two very small twin sons, one of whom has spent a significant chunk of his life getting past the medical side-effects of being born. Dude's had some shit on his plate is what I'm saying.
³ Aud Koch! Seanan McGuire! Monica Gallagher! Sophie Goldstein! Cat Farris! Kendra Wells! Plus at least one dude because there are men that make comics, too.
4 Nerrrrrrrrrrrd.