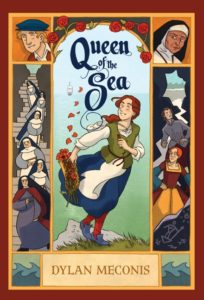 Hey. Question for you. Why are women so damn good at comics? I mean, why are there literally so many more women whose work I am excited to follow than dudes? Is it because dudes held the entire industry to themselves for so long, only letting in other dudes that looked and thought and wrote like them, resulting in staleness and homogeneity? And women, long excluded, had to up their game and be so much better than dudes who could get published just for showing up?
Case in point #1: Dylan Meconis. She has a wicked edge to her stories, one that treads the line of humor and messing with you for being a chump, whether she's exploring the French Revolution (via vampires), the Age Of Reason (via werewolves), or comic/SF convention culture/cliche (via the apocalypse).

And today, her latest graphic novel hits the stores:

This book is full of:

cool nuns
16th century infographics
recycled folklore
embroidery trash talk
questionable chess strategy
shameless pandering to the lutist community
identity crises
dubiously symbolic flora
mysterious pinnipeds
loud young redheaded women

There is also:

one (1) nun who's kind of a jerk
one (1) hot lad who probably knows how to do Sword Stuff
one (1) fake saint and her relic, which is in point of fact a dried fish head

Not to mention your standard royal exiles the inconvenient alternate claimant to the throne that would be the lead talking point in most elevator pitches. We've seen that before, but embroidery trash talk? Yes, please. There is more raw creativity in that description than in most ten-year runs of dude-centric comics.

Additionally, I can state unreservedly that it's gorgeous, having been present to see some of the pages painted in late April 2018. Queen Of The Sea is part of Candlewick's expansion beyond children's books and YA prose into the graphic novel space, and they are not screwing around. Grab a copy as soon as you can and join me in reading it.

Case in point #2: Shing Yin Khor, who wrangles watercolors, powertools, and emotions with equal facility. Their memoir of traveling the historic Route 66 releases on 6 August, retelling a road trip with their dog Bug in search of their passions in life (including, but not limited to, giant muffler man statues, roadside dinosaur statues, and what it means to be American). They're working on her next book, a graphic novel about the Chinese contributions to the American west, particularly in and around lumberjackery. And they just got announced as one of the featured guests for SPX this year:


#SPX2019 SPECIAL GUEST: Ignatz winner Shing Yin Khor @sawdustbear, a Malaysian-American cartoonist and installation artist exploring the intersections of race, gender and immigration. Their forthcoming graphic novel, "The American Dream? A Journey on Route 66" is out in August.

#SPX2019 SPECIAL GUEST: Cartoonist Rosemary Valero-O'Connell @hirosemaryhello who's opening eyes with her latest, Laura Dean Keeps Breaking Up With Me w/ writer, @marikotamaki. Past works includes Lumberjanes. Her illustrations work has been shown in galleries internationally.

#SPX2019 SPECIAL GUEST: @marinaomi is the award-winning cartoonist of 4 graphic memoirs and the Life on Earth YA graphic novel trilogy as well as founder and admin of the Cartoonists of Color, Queer Cartoonists, and (soon) Disabled Cartoonists databases. http://MariNaomi.com

#SPX2019 SPECIAL GUEST: Ignatz Award winner for Promising New Talent, @biancaxunise! Her body of work focuses primarily on the daily struggles of identifying as a young black feminist weirdo in modern society and has been featured in The Washington Post, The Nib, BBC and more.

Checking out the Special Guests page at SPX, there's a dozen names so far, more than half of whom are women — Emily Carroll is there, Eleanor Davis, and Raina Telgemeier. The dudes there are interesting, too — Eddie Campbell and Jaime Hernandez are essential in any conversation about comics, Box Brown does astonishingly detailed documentary comics, Ed Piskor and Kevin Huizenga are amazingly accomplished — but the women are the ones whose next work I'm dying to see.

Case in point #3: Abby Howard does comics that hit that Kate Beatonesque sweet spot. Just detailed enough to get across the story point or emotion she's shooting for, just esoteric enough in topic that nobody else is doing the same thing, and absolutely hilarious when funny is what she's shooting for. Her long-running autobioish Junior Scientist Power Hour may not always be true to life — I'm not convinced her cat Spoons really went on a hero's journey that took place in a magical realm entirely contained in Howard's ass — and it may have been fallow while Howard was working on her utterly charming Earth Before Us trilogy, but it's always been great reading.

And now, it is coming to an end. She'll keep up the journal comics on her Patreon, and the previously-uncollected JSPH strips are getting the print treatment, courtesy her new Kickstarter campaign. If you didn't pick up her first JSPH collection, you can get it along with the new one at an advantageous price!

It's been a while since we busted out the Fleen Funding Factor, Mark II, but the math projects that JSPH2 will finish in the range of US$39K-58.5K (on a goal of US$30,000), with stretch goals ranging up to US$65K. She's at 41% of goal since launching yesterday and 28 days left to go, but I need anybody with an interest to pledge so that this one completes, because if it doesn't I might not get the original art I pledged for, and that would be a tragedy.
---
Spam of the day:
Happy Birthday Dr. Seuss! Get a FREE Backpack While Supplies Last
This message seems dangerous

Similar messages were used to steal people's personal information. Avoid clicking links, downloading attachments, or replying with personal information.
I was going to do a Seuss-rhyme her to express my ire, but man that's one hard style to emulate. Guess I'll have to content myself with Fuck you, scamming scum.