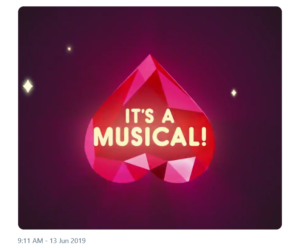 Hey, did you see the news? You probably saw the news. The news is good:
Steven Universe The Movie ?…? is a musical!!!? Featuring all NEW songs by @rebeccasugar in collaboration with @chancetherapper @EstelleDarlings @PattiLuPone @UzoAduba @SoGallant @aimeemann and more! #stevenuniversethemovie #stevenuniverse #cartoonnetwork
Steven Universe: The Movie, readers will recall, was announced at SDCC last July, with your humble hack webcomics pseudojournalist nailing an interview with lead character designer Becky Dreistadt minutes after the announcement. Since then, we've seen huge amounts of Steven lore — Homeworld, White Diamond, the healing of the corrupted gems on Earth, what could have served as a finale for the series.
Rumors have swirled about the movie — it takes place after a time jump, it takes place immediately after the season 5 wrapup, it'll be the last of Steven Universe — but little definitive until the announcement:
It's a musical! With music-heavy episodes like Mr Greg under their belts, and with the Crewniverse only getting better at songwriting, I don't know why I'm surprised, but I am. Delightedly so.
Artists collaborating with Rebecca Sugar include Aimee Mann (Opal's back!) and Chance the Rapper, and the guy who dropped tight rhymes as Eff-Nocka is a co-executive producer.
It's not the end of the show.
Apart from that, who knows? Me, I'm holding out for a time skip of sufficient duration that we find out if Steven inherits Greg's hairline or not. Oh, and apparently we'll get physical media — DVD, soundtrack (probably including vinyl) — by end of the year. It's a good year to be a Steven Universe fan, and we're all lucky to have Rebecca Sugar's vision¹ of what a kinder world looks like. We'll undoubtedly learn more in about a month at this year's SDCC Steven Universe panel.
---
Spam of the day:
hotty Desire Fleen: The Awkward Christmas Dinner Of Our Obligation To Existence
I think they're trying to say that a hotty (possibly plural hotties) desire Fleen? I mean, it's a website, so I'm not sure what that would look like?
_______________
¹ Speaking of, this year's Studio Ghibli Fest — where classic Ghibli movies are simulcast to local theaters in both dubbed and subtitled versions — will be premiering Whisper Of The Heart's first major North American theatrical release on 1 (dub) and 2 (sub) July, with a special introduction by Rebecca Sugar. Details on which theaters are participating in the simulcast and advanced ticket sales here.
Subsequent releases this season include Kiki's Delivery Service (late July), My Neighbor Totoro (late August), The Secret World Of Arriety (late September), Spirited Away (late October, spooooky), Princess Mononoke (late November), and The Tale Of The Princess Kaguya (mid December).