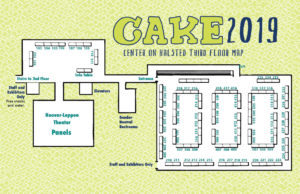 Hey, are you gonna be in the city of Chicago this weekend? I mean, everybody in the midwest is dodging persistent rain, tornadoes, floods, and general End Times events, but if you're in Chicago you can at least enjoy the last days of Earth with comics at the Chicago Alternative Comics Expo, Saturday and Sunday, 1 & 2 June, from 11:00am to 6:00pm at the Billie Jean King Recreation Center (the third floor of Center on Halsted¹), 3656 N Halsted Street. It's free to the public, got a humane scale of exhibitors (one big room plus a hallway entrance, an even 100 tables if my count is right), and an emphasis on the comics part of comics.
Special Guests will include Nicholas Gurewitch, Ben Passmore, Whit Taylor, and Rosemary Valero-O'Connell. Exhibitors draw heavily from the middle of the country, and will include Ben Sears, Biance Xunise, Blue Delliquanti, Cathy G Johnson, Iron Circus², John Porcellino, Katie Schenkel, Chris Grady, Patrick Lay, Sage Coffey, Sarah Becan, Tess Eneli Reid, Tom McHenry, and Tony Breed
I didn't include table numbers because come on — just walk around the room.
Programming is heavily tilted towards the Special Guests — I don't think there's a panel until Sunday that features a panelist that's not a Special Guest. Ones that caught my eye include:
The Occult In Comics; Saturday, 11:30am-12:30pm; with Corinne Halbert, Rosemary Valero-O'Connell, Anders Nilsen, and Isabella Rotman, moderated by Anya Davidson.
Looks Good Enough To Eat: Drawing Food and Recipe Comics (workshop); Saturday, 11:30am-12:30pm; with Sarah Becan.
The Idea Kitchen (workshop); Saturday, 1:00-2:00pm; with Nicholas Gurewitch and Jackie Davis.
Graphic Medicine: Comics as Treatment; Sunday, 1:00pm-2:00pm; with Whit Taylor, Sage Coffey, Bianca Xunise, and Vreni, moderated by Kevin Budnik.
Storytelling Flow (workshop); Sunday, 3:00pm-4:00pm; with Tom Hart.
The panel room is apparently the theater off the entrance, but no indication where the workshops are.
CAKE is accessible by the El (Red line to Addison), the #8 Halsted bus, the #22 Clark bus, #36 Broadway bus, or #152 Addison bus. Head for the corner of Halsted and Waveland, and look for the Whole Foods; Center On Halsted shares the block and is just to the north.
---
Spam of the day:
Live Chat with Asian Women VIEW HER SEXY PHOTOS
Dude, don't yell. Sheesh.
_______________
¹ Oddly, Center On Halsted's events calendar doesn't make mention of CAKE, but it's there.
² It doesn't specifically say that C Spike Trotman will be there but come on … it's right down the street for her.