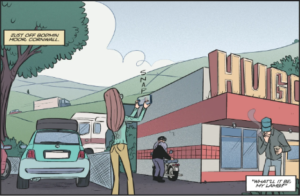 It's axiomatic with me that for very nearly every creator whose work I enjoy, I have a single answer to the question Which of their projects is your favorite? Because creators grow in skill and the breadth of their worldview, because practice doesn't ever drag somebody backwards, the answer is generally¹ The next one. And in the last 24 hours, we've gotten a couple of The next one announcements that look very good indeed.
Let's start with the news from Shaenon Garrity (creator of too many good things to list, but presently working on Skin Horse with Jeffrey C Wells), via Twitter:
Guess @chris_j_baldwin and I can officially announce this…
That would be Christopher Baldwin, who also has done too many good works to list them all, but who is presently working on the second series of Spacetrawler. And the this in the tweet is a screencap of a publishing announcement which reads:
Karen Wojtyla at McElderry Books has acquired world rights to the YA graphic novel Willowweep Manor by Shaenon K Garrity, illustrated by Christopher J Baldwin. Teenage Haley is obsessed with all things Gothic, but never imagined she'd experience them in real life, until the day she rescues a drowning young man and wakes up in a 19th-century estate complete with brooding gentlemen, sinister servants, and an actual ghost. But all is not as it appears, as Haley learns she has not been swept into the past, but instead into a strange universe all its own. Publication is slated for fall 2020; Barry Goldblatt at Barry Goldblatt Literary handled the deal.
In no particular order:
As much as I love Garrity's solo comics work, her collaborations are where she really shines. Baldwin is going to design the hell out of the vaguely unsettling characters and scenery.
To hit a release date in the fall of next year, that book is already done. It's on final edit if not already queued for printing in China and the long journey here to hit the late Spring/early Summer festivals and cons for promotion.
That description has me hooked. I hope it's actually book one of a series.
Barry Goldblatt (along with Seth Fishman and a few others) are really stepping into the space pioneered by the legendary Judy Hansen. The fact that I can name multiple graphic novel literary agents off the top of my head should tell you that comics are in a damn golden age of quality and variety.
And then earlier today, the entirely essential Oliver Sava at The AV Club brought the news that John Allison has his next series lined up, what with Giant Days wrapping in a few months, and By Night about to publish issue 12 of 12. We knew that Allison was working on something new, given the hiatus announcement in October that put on Scary Go Round/Bad Machinery on an indefinite pause, and the latter-day Bobbins strips bringing the entire Tackleverse to a quiesced state in February.
As recently as this week, Allison promised us new projects post-Giant Days, with fabulous new characters, and mayhap even the return of an old favorite. But it appears that the next Allisonian project will be Steeple, a five-issue supernatural horror series, with Allison on both writing and art duties², with colors by Sarah Stern, letters by Jim Campbell, and at least one cover by current Giant Days artist Max Sarin.
It's a story about good and evil (and the greys between) and a trainee priest in Cornwall and just maybe a certain inescapable Tackleford regular³. Steeple #1 releases on 18 September from Dark Horse, who've been in rather a bit of need for new properties (having lost the Buffy and Star Wars licenses, and seen longtime mainstay Usagi Yojimbo head to IDW and the promise of monthly color), so hopefully they're giving Allison the royal treatment.
Because after all, what he does next is going to be his best yet.
---
Spam of the day:
In 3 weeks he lost 27 lbs? In 3 months he lost 84 lbs?
He's either got a tapeworm or he's doing irreparable harm to himself. Please stop holding either up as behavior to be emulated.
_______________
¹ With the caveat that this depends on the creator in question having control over their work. I stand second to nobody in my admiration of Gene Luen Yang's work, but when DC put him on Superman, it was apparent from my POV as a reader that editorial was jerking him every which way from month to month. He had different artists, radical shifts in story, plots suddenly dropped, and it can only be because he was doing work that was changed at the last minute to accommodate something going on in another comic.
Compare to what he was able to do with superhero story forms on The Shadow Hero, or beloved (but corporate-owned) IP on Avatar: The Last Airbender and the conclusion is either his work was severely constrained/interfered with, or he suddenly forgot how to do comics for ten issues of Superman, then went back to being a master of the form again.
² We haven't had a comic-sized story with Allison on art since the Giant Days Christmas story, and I've missed his style on the page.
³ Sadly, not Desmond Fishman. Probably.