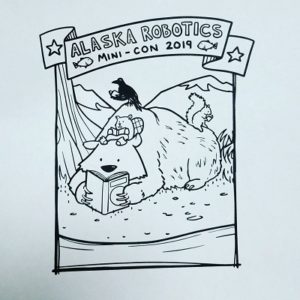 A pair of comics shows had announcements about guest appearances today. One is large, one is HUGE.
Large: The Nerd Prom in San Diego announced its second tranche of special guests, and within the group of six were two with webcomics roots.

Carey Pietsch does the art for Mages Of Mystralia, and has worked on everything from a Meredith Gran-penned Marceline & Prubs miniseries to Lumberjanes to a series of self-published comics; seems like every SPX and MoCCA, she'd have a new story.

But these days she's best known, and most likely achieved Special Guest statues, for her collaboration with La Familia McElroy to adapt The Adventure Zone. The first book was a hoot and the second (which drops the day before SDCC Preivew Night) hasn't lost a step (at least, judging by the preview excerpt that :01 Books sent me. The McElroys appear to be settling into their characters and their shared story, and the humor is sharper, the running gags have more legs, and Pietsch is throwing even more little bits into the background to satisfy the obsessive fans.

The other is Randall Munroe, who generally keeps a low profile, but who also has a major book coming out this year. If there's one thing that publishers who work with wildly creative webcomics types (cf: Ryan North), giving them a platform to be themselves in public pays off in interest and sales. San Diego Comic Con runs from 18-21 July, with Preview Night on the 17th.

If you don't have badges lined up already you probably won't get in, but then again a lot more of the happenings around SDCC happen outside the convention center. But then again again, if you didn't get in on the Hotel Rodeo last Thursday (and more importantly, hear from the hotel folks tomorrow that you got a room), you may not be able to say in the same metropolitan statistical area as the convention center.

HUGE: The Alaska Robotics Mini-Con takes place next weekend in Juneau, Alaska. There will be school visits on Friday 26 April, and one day of con activity at the Juneau Arts & Culture Center, with programming in the immediate vicinity at the Alaska State Museum, KTOO, and the Zach Gordon Youth Center. There will be upwards of 60 folks exhibiting, and the show is open and free to the public. So what makes this HUGE?

Scroll down the list of exhibitors, past graphic novel slingers like Alex Graudins, Alison Wilgus, Cat Farris, Jen Wang, Tillie Walden, Tony Cliff, and Los Angeles resident Dave Kellett. Notice that artistic goofballs Chris Yates and Scott C will both be bringing their distinct forms of whimsy to the show, but keep reading. Scroll past even such names as your Dylans Meconis, Lucies Bellwood, Kazus Kibuishi, and Ryans North, to the biggest name in comics: Raina Telgemeier.

And then notice this detail:

Her newest book is Share Your Smile and will debut at the Mini-Con!

Share Your Smile has a release date of 30 April. The one day Mini-Con is on the 27th. If you're in Juneau, you will get your hands on Raina's book about making your own comics before anybody else on the planet and that, my friends, is HUGE. See you in Juneau.
---
Spam of the day:
Looking for some awesome gadgets to spice up your life?
Thanks to Gmail not displaying images for spam, I'm not sure if this is meant to target people that would be enticed by the manly tactical kinds of gadgets, the everyday carry types of gadgets, or the sexy, lube-dripping types of gadgets. Maybe be more clear in your copy text?