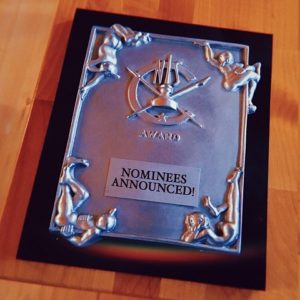 The National Cartoonists Society is a venerable organization, founded on the principle that cartoonists ought to get together and have a big ol' drink-up. Oh, and promoting the art and craft of cartooning, and later endowing scholarships, doing USO visits, public outreach, but mostly? Cartoonists like to hang out and party.
In the past, they've spread the partying around (case in point: I got to dress up in a damn tuxedo and gamble like I was James Frickin' Bond one year), but this year and going forward, it'll be Huntington Beach and a public, Euro-style festival that hosts the (members and guests only) Reuben Awards.
(Requisite disclaimer: I have been a member of the advisory jury for every iteration of webcomics awards the NCS has presented, from 2012 to present; I will not discuss the details of my participation or the process by which the jury made its determinations.)
This year, the nominees for Online Comics — Short Form are Cat And Girl by Dorothy Gambrell, bacön by Lonnie Milsap, and Saturday Morning Breakfast Cereal by Zach Weinersmith. The nominees for Online Comics — Long Form are Untold Tales Of Bigfoot by Vince Dorse, Kill Six Billion Demons by Tom Parkinson-Morgan, and Barbarous by Yuko Ota and Ananth Hirsh.
Webcomickers and adjacent folks in other categories include Pia Guerra (who tears it up at The Nib) for Gag Cartoons and John Allison (and let's acknowledge the rest of the Giant Days team: Max Sarin, Liz Fleming, Jim Campbell, Whitney Cogar) for Comic Books.
With respect to my disclaimer above, my thoughts:
All of the nominees in both categories have that je ne sais webcomiques that says this is something that could only exist on the internet, it would never work in the paper, with the exception of bacön, which could have been slotted into the Gag Cartoons category.
As previously stated, the categories have undergone a several years refinement process, both in developing an eye as for what makes webcomics webcomics, and in seeking out a wide variety of nominees¹ that wouldn't ordinarily fall into the orbit of the average NCS member.
Due to the nature of webcomics and the fact that the term itself is terribly imprecise, there will possibly never be a slate of nominees that entirely satisfies the sort of person that cares about this sort of thing² which makes these categories par for the course in comics awards. That being said, I think this year's nominees represent well the breadth of webcomics.
Having previously won, I think Dorse won't win Long Form this year.
It's weird that the revived Nancy did not get nominated for newspaper strip, but since Olivia Jaimes took over in the middle of the nomination period, maybe it's to avoid confusion. But if Nancy stays as good as it has been (a virtual certainty) and isn't nominated next year, the pier at Huntington Beach may see riots.
All three nominees for Feature Animation are recognized for their work on Spider-Man: Into The Spider-Verse, which is only right and proper. Well done, Shiyoon Kim (character animation), Peter Ramsay (director), and Justin K Thompson (production design). It must have been terribly difficult to single out only three names, and I suspect whichever wins will declare that the recognition belongs to everybody that worked on the movie.
I don't know who won; until the public announcement, I didn't know who the final nominees were.
I have and will continue to have opinions.
The various awards will be presented on 18 May in Huntington Beach, California. Best of luck to all the nominees, but if I had to express one preference? I think it would be awesome if the NCS gave an award to a story about a sorority girl, a genderqueer angel, and a demon fanfic author pulling off a heist from an infinite fractal vault in Hell, if only because a bunch of old dudes that didn't like dames or beatniks or minorities even appearing in comics (much less making them) would turn in their graves, giving us a perpetual source of clean energy.
---
Spam of the day:
You are rewarded with clean and healthy feet with japanese fungus code
What.
_______________
¹ Including Jon Rosenberg's Scenes From A Multiverse (won), Meredith Gran's Octopus Pie, Danielle Corsetto's Girls With Slingshots (won), Minna Sundberg's Stand Still, Stay Silent (won), Ngozi Ukazu's Check Please (won), Drew Weing's The Creepy Casefiles Of Margo Maloo (won), Boulet's Bouletcorp, and Allison's Bad Machinery (won).
² AKA all of you.