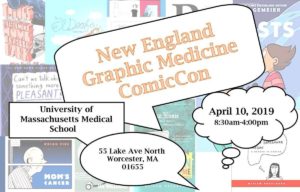 I had some reservations about today's topic because there's tantalizingly little information public, and I couldn't find any more that what I'm about to share with you — and believe me, I went digging for every possible public avenue. But if there's one thing that comics are uniquely suited towards, it's teaching — and some of you are going to want to consider attending an upcoming (but at the moment, mysterious) event. I've got some inquiries out there now, and I'll be sure to update with any additional details that present themselves.
So, the University of Massachusetts Medical School is apparently doing a comics event. The sole mention of it so far is from the New England Region of the National Network of Libraries of Medicine, which appears to be an endeavour of the National Institutes of Health. There's nothing at the NNLM/NER webpage and nothing at the UMass Med School web page, but we can tell some things:
The address given, 55 Lake Ave North Worcester, MA 01655 appears to be for the UMass Memorial Medical Center, which is the first of the entities so listed to have an upcoming events listing.
Nothing for the date given, 10 April, though.
Despite the graphic elements shown in the announcement, it doesn't appear that the likes of Cece Bell, Raina Telgemeier, Brian Fies, or Roz Chast will be there — I'm assuming that they're there because the comics in question all deal with health, death, and dying.
But Maki Naro, science communicator via the medium of comics since small times, will be there.
Despite the name, New England Graphic Medicine ComicCon looks like it will be more an academic event than a con, if only based on the sponsoring organizations. Look for formal talks, not tabling creators.
So maybe don't show up in cosplay as your favorite communicable disease; in fact, it may not be open to the public at all, what with it being daytime in the middle of the week.
But I have people that read this page that likely are the intended audience, whether they use comics in a STEM academic setting (hello, Danteluke Landherr-Shepherd), those who use comics as part of medical outreach and education specifically (hello, Cathy Leamy), not to mention librarians of alls trips (particularly academic librarians).
If this sounds like a good way to spend a Wednesday, you might want to start working your professional networks. In the meantime, I'll let you know what responses I get. With any luck, we'll be able to get one or more of the folks that attend to tell us what they taught and/or learned.
---
Spam of the day:
System simple growth well-being running USA by the developer from NASA – specifically made it possible a lot of young people receive impressive amounts!
Curiously, this spam came in both bad English (as seen above) and original Russian text. When Google translated, this section reads:
Simple income system developed in Japan, scientists from NASA – really helped many people to raise little money!
The differences in wording aside, I find the shift from the USA to Japan to be weird. But mostly, I take it as a reminder to watch the Super Karate Monkey Death Car episode of News Radio again. Stephen Root is a treasure.