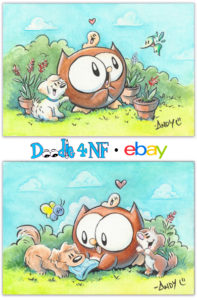 I mean, the dog's keeping me company so that's all right, but I could use another 18 hours or so of sleep. Yet your insatiable desire for webcomics and webcomics-adjacent news demands my consciousness, damn you.
Speaking of dogs and under the weather, I need to mention Andy Runton for a moment. It is established, scientific fact that Runton is the sweetest guy on the planet, and also that he has spent significant effort in the past helping others through their medical challenges. See those watercolors he did to raise money for neurofibromatosis? They feature his pooches. One of whom, Gable, is doing poorly:


… Gable stopped using his back legs. We rushed him back to the specialist and I'm so glad we did. Gable needed emergency surgery to help his back. He suffered something called IVDD, losing multiple discs in his spine.

He made it through surgery and even recovered most of his ability to walk over the next 3 months. Unfortunately he suffered another injury to his spine on February 2nd. Nothing major happened. He just didn't want to stand up when it was time for bed. We were hoping he just needed some pain meds but he needed a second back surgery.

Andy's an independent cartoonist; the Owly books have been out of print for a shamefully long time, and although Scholastic is reissuing them (in color!) and following the existing five with a new sixth book¹, that doesn't even start until next year. So maybe help the sweetest guy as he's doing right by an adorable pupper? I'm in and I hope you join me.

Speaking of sweet things, did you know that at the Ig Nobel prize ceremony, there is a small girl named Miss Sweetie Poo who will — if an acceptance speech goes on too long — repeatedly declare Please stop, I'm bored at the laureates? Because there is. And this has what, exactly to do with webcomics?

Enter Zach Weinersmith, and his Bad Ad-Hoc Hypothesis Festival in London, on 16 March:

Brought together at Imperial College for the first time on the same date — the London stop of the Ig Nobel Awards Tour Show, and the London Festival of Bad Ad Hoc Hypotheses.

Both shows will take place in the Great Hall of Imperial College, in the Sherfield Building (number 20 on this map). The Ig Nobel show will start at 15:00 (doors open from 14:00) and will finish by 17:00. There will then be an intermission. BAHFest will start at 19:00, (doors open from 18:00) and will finish by 21:00. After the show, the bar downstairs from the venue will be open for attendees, and there will be a book signing with several of our judges and speakers. Books can be bought in advance when checking-out through Eventbrite, and a limited number will be available to buy on the day.

Tickets at this link ranging £9 (one show only, student) to £80 (both shows, plus dinner with both sets of performers between the shows), with Imperial College students able to purchase tickets through their student union. If you'll be in Blighty at the time, get tickets — there will be laugh-chuckles aplenty.
---
Spam of the day:
THE "ASSAULT BAG" IS YOUR EVERYDAY TACTICAL BACKPACK – GET 1 FREE!
This might have gone over better if you hadn't sent it the same day that McSweeney's posted this.
_______________
¹ Runton told me about this last year at Comics Camp, but I promised not to reveal it before the official announcement. Somehow, I neglected to write about it here, which is deeply embarrassing.