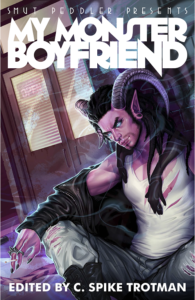 Always remember: Valentine's Day is a Christian corruption of a pagan festival involving werewolves, blood and fucking. So wish people a happy Horny Werewolf Day and see what happens.
Oh, Internet Jesus, are you ever at a loss for words? Let's see what webcomics has in store for Horny Werewolf Day.
If you're going to keep the Horny in Horny Werewolf Day, you could do far worse than keeping an eye on Oh Joy, Sex Toy, where chroniclers of all things sexy Erika Moen and Matthew Nolan are dealingn with the efforts of working on two books by sharing the love:


Next week we've got another cute porny guest comic (I know right, a lot of horny ones in a row, just in time for Valentines — it's just how it turned out I swear)

And then just after they've got a signing of Drawn To Sex at the Seattle outpost of Babeland:

Meet illustrators and authors Erika Moen and Matthew Nolan as they talk about sex and the first installment of their educational book series, Drawn to Sex: The Basics.

Erika and Matthew have spent years learning, talking, and creating informative comics about all aspects of sex. Using comics, jokes, and frank communication, they're here to demystify the world of sex and answer your questions—including ones you might not even know you had! Enjoy complimentary bubbly, 10% off shopping and a chance to win a copy of their new book.

That's Friday, 15 February, from 7:00pm to 8:00pm, at 707 East Pike Street in Seattle.

You know where you might find actual horny werewolves? In the Iron Circus anthology of sexy times plus beasties, My Monster Boyfriend, that's where! And if you don't have a copy handy, you can get one on sales between now and HWD. From IC Supremo C Spike Trotman:


Happy February, everybody! It's time for a Valentine's Day sale! From now until February 15th, we're offering 25% off cover price on all our romance and erotica titles!
Just use coupon code JewelledDynamo at check out, and the discount will be applied to all applicable items in your cart.

Applicable titles are Crossplay, Iris and Angel: Two, The Less Than Epic Adventures Of TJ And Amal, Five Years Ago And Three Thousand Miles Away, Kung Fu Hustlers, Whisper Grass, Letters For Lucardo, Smut Peddler: 2012 Edition, Smut Peddler: 2014 Edition, Smut Peddler Presents: My Monster Boyfriend, and Yes, Roya.

You can find all of them in the NSFW section of the Iron Circus Store, along with How To Smoke A Weed (not romance/erotica) and Iris And Angel: One (listed at zero dollars for the PDF, so how much of a discount do you want?).
---
Spam of the day:
This official President DONALD J. TRUMP COMMEMORATIVE COIN
Nope. Stopping you right there. Today's post is a celebration of horniness, not antihorniness. Shoo.