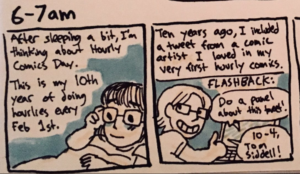 Hey, everybody! It's February 1st, and you all know what that means — it's Saint Groundhog's Day Eve! Okay, it's also Hourly Comic Day and we'll get to that presently.
Today is also-also the day that KC Green wraps He Is A Good Boy after 300+ multipage updates of spiral time and inner journeys. Crange may not be a good boy (he's certainly not the greatest god-damn boy you'll ever meet), he's kind of a dick and pretty much inertia personified. But after seeing all the variations, all the Crange, all the Emersons, all the quantum-variant versions of himself, he found a way to start over with some peace, a way to exit the eternal cycle of birth and rebirth, which I'm pretty sure makes him a buddha.

The big finish starts here. If it's too weird for you, maybe check out a recent one-shot at The Nib wherein a squirrel gets his comeuppance. None of those acorns are Crange. At least, they probably aren't.

Right! Hourly Comic Day! You know the drill, you make a comic that expresses what you did in each hour of the day, ideally within that hour. There's more of them out there today than a reasonable person can count, but I'll get you started with ones that I particularly enjoyed: Tony Breed, Carly Monardo, Jeph Jacques, Jean Wei, Haley Boros, Meredith Gran, Colleen Frakes, Abby Howard, Dean Trippe, Christopher Baldwin, Shing Yin Khor, and Lucas Landherr are all on Twitter; Danielle Corsetto opted for Instagram, and there's a zillion on Tumblr (I'm not on Tumblr).

But for my money, the best single hourly comic was the first posting from Magnolia Porter, because her comic for 6-7am doubles as that you ten years ago vs you today thing that was going around two weeks back. Oh, and happy day after your birthday, Mags; you rock.
---
Spam of the day:
Never eat THIS after 7:00 pm (triggers heart attack)
Man, now I'm going to be all paranoid when it's time to shift the clocks. Does the heart attack food know about Daylight Savings? Or time zones?