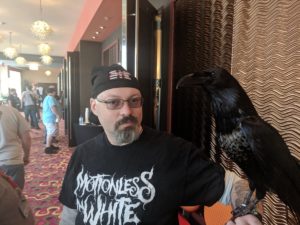 Hey, how's it going? I've taken to keeping a half-full bottle of gin on my desk¹. On the theory that it may help your day to get better, here's some things to examine and/or plan for!
Today! Kevin Sonney is a magnificent dude; programmer and Linuxbender extraordinaire, tatted and bekilted con security heavyweight, and certified Disney Princess to whom critters flock. He's also a persistent podcaster, mostly with wife Ursula Vernon — they cohost Kevin And Ursula Eat Cheap and consume things no mortal should; he is the voice of Reverend Mord on The Hidden Almanac.

Right now, though, we're focusing on Productivity Alchemy, which is about — stripped to its most basic — Getting Your Shit Together And Getting Shit Done. It is, ironically, the sort of thing that would paralyze me, as I am definitely the sort of person that would hopscotch from solution to solution, method to method, tool to tool, and obsessively chase achievement badges. My productivity works in fits and starts, and a lot of it looks like Ignoring The Issue At Hand from a distance, but it works for me². Which is to say, Sonney's probably a lot smarter than me on every aspect of productivity as he's put a hell of a lot of thought into it, and I'm more intuitive and decidedly nonanalytical about my methods.

But sometimes I have to beak my own rule to see what's on Sonney's mind, and today is one of those days. He's talking to Howard Tayler — my evil twin — about his approach to keeping life together, and dropping refs to the likes of Jennie Breeden's The Devil's Panties, KB SPangler's A Girl And Her Fed, and Randy Milholland's Something*Positive. It's a fun, informative listen and I recommend it wholeheartedly.

Future! For those whose personal productivity includes future planning, and who also live in the Bay Area, the Cartoon Art Museum wants to help you sort out what to do with the kids this summer:


Cartoon Camp is filled with active creative engagement for older kids and teens who are avid artists enjoying drawing and are looking to build skills. All materials are provided. Find discounts, details and sign up opportunities for museum members on the registration links. Register before camp sessions fill up!

Classes are designed for the 10-15 year old set with a bit of experience under their belts, with a choice of three week-long sessions. You can do skill-building in the mornings with Mark Simmons, afternoons of group work and studio time with Ellis Kim, or full days to experience both (bring lunch, it's not provided). There's also a couple of drawing excursions to local scenic spots.

Sessions run the week of 17 to 21 June, 24 ot 28 June, or 29 July to 2 August.; morning sessions run 9:00am to 12:30pm and afternoons 1:45pm to 5:15pm. CAM members get 10% off the US$300 tuition (full days are US$550); reserve now before slots fill up.
---
Spam of the day:
View live security camera feed from your phone
This is advance notice: If I ever give any indication that I have allowed any Internet Of Things™ or "Smart" appliances into my home, that is a sure sign that I have been replace by a pod person, and you should set "me" on fire at the first opportunity.
_______________
¹ Okay, it's one of those airline bottles on account of my exit-row seat home from Dallas t'other night entitled me to a free drink and that was all I wanted at the time. But still! Hard bitten journalising going on here!
² All the seeming off-goofing is my brain arranging itself into a Cave so I can hit the Zone. Lots of people achieve their Zone via external tools, but mine are on the inside.