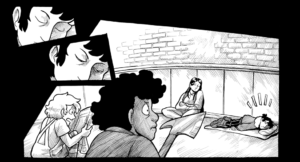 You might not realize that a pair of occasionally-updating webcomics updated today, but some of us still believe in the power of RSS and saw the notifications.
First up, The Perry Bible Fellowship and a very good dog (despite what some in the panel might say).
Next up, a 22 page behemoth from Abby Howard at The Last Halloween; Howard's spent a lot of time the past couple of year on her excellent Earth Before Us series of educational graphic novels (the third of which should drop in summer — Age Of Horns, people!), but you know that the monster-overrun TLH is where her heart yearns to be. We get a lot of backstory and worldbuilding in this one, and progress towards the next chapter, which may or may not take us back to Mona and whoever else survived Book 1. Go check it out!
And now, the weekend.
---
Spam of the day:
Take 57 lucky days of the year
Take +1 happiest day of week
The formula, which activates the luck 30 hours
Is this one of those deals where you do the math on your calculator and the answer is 5318008?