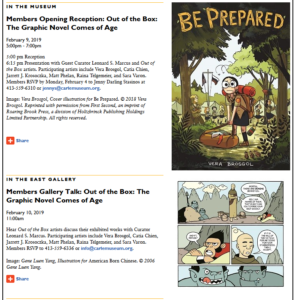 Before we get to the Good Thing in the title, I wanted to mention an Auxiliary Good Thing. That is to say, the second issue of The Nib in print is reaching mailboxes — such as mine, today — and it looks great. If you want a copy of this issue, on the theme of Family, you can either go back in time and back the Kickstarter, or you can take out a supporting membership.
Both options give you a choice of digital or print, but let me assure you that like the Death issue from September, Family is beautifully designed, on weighty, satisfying paper and has a considerable odor from the many inks¹ used in its construction.
_______________
Okay, the main Good Thing: Word's been going around for the past few days about how the Eric Carle Museum Of Picture Book Art in Amherst, MA, would be running an exhibition on the history of the graphic novel. Out Of The Box: The Graphic Novel Comes Of Age² opens on !0 Febrary and will run until 26 May, and will feature the work of Vera Brosgol, Catia Chien, Geoffrey Hayes, Gene Luen Yang, Jarrett J. Krosoczka, Hope Larson, Matt Phelan, David Small, Raina Telgemeier, and Sara Varon.
But wait! There's more.
The night before (that would be 9 February), there's an opening reception from 5:00pm-7:00pm, with guest curator Leonard S. Marcus Brosgol, Chien, Krosoczka, Phelan, Telgemeier, and Varon expected to be in attendance. There's a talk with the same folks the next day (10th again) at 11:00am to officially open the exhibition.
If you want to attend these special events, you need to RSVP, via one of two different methods. For the reception, contact Jenny Darling Stasinos at 413-559-6310 or jennys [at] carlemuseum [dot] org; for the gallery talk, RSVP at 413-559-6336 or info [at] carlemuseum [dot] org. Reservations open today, and run through Monday, 4 February.
Now here's the kicker — both of those events are for Carle Museum members. If you aren't one, now's the time to join. Please note that Amherst is in the middle of one of the greatest concentrations of web/indie comics creators on the continent³, the Pioneer Valley of Massachusetts, home to Northampton, Easthampton, TopatoCo, Eastworks, the very sexy R Stevens, and at least one creator of Ninja Turtles, so if you're going you may as well wander around and try to spot background locations from Questionable Content.
It's not like those folks keep storefronts you can wander into, but if you bump into one on the street, they'd probably appreciate it if you told them I love your work, please accept three dollars cash from me a tip and I promise I will leave you alone and not be a creepy stalker.
---
Spam of the day:
As Seen On TV + 1 Month FREE!
One of the great improvements in Gmail lately is that images do not automatically load in spam. As there's no text in this email, only pictures, I literally have no idea what they're trying to scam me with. It's awesome.
_______________
¹ I pity the youth of today, who never received a fresh-from-the-ditto machine quiz in junior high, the purplish ink still stinky and damp, making all your penciled answers smudge and tear. Wait, no, the opposite of that, those things were terrible.
² No direct link; at present, that's on the upcoming exhibitions page, and will presumably shift to the current exhibitions page, and eventually the past exhibitions page.
³ Other loci include Portland, Seattle, the Bay Area, Toronto, Brooklyn, and White River Junction.