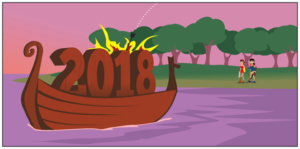 Did everybody enjoy the end of 2018? And by end of, I mean in the sense of driving a stake through its rotten heart, burning it on a sanctified pyre, burying the ashes at a crossroads under a wreath of garlic, and sowing the ground with salt.
We'll be back to regular posting shortly as everything starts to ramp up again; tomorrow will be a skip day as I'll be on a plane for most of it.
In the meantime, let us all resolve to be more like Wonderella.
---
Spam of the day:
Jimmy Fallon: Judge Judy exits
I see we're starting the year off with some prime-grade nonsense. Well done, 2019.