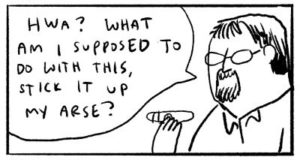 It's been an up and down couple of years for Kate Beaton and family — for every book or wedding, there were setbacks in Becky's fight against cancer. But even amid grief there's new hope, and sometimes very, very good news:
My dad just had open heart surgery, and he is through and doing good! Phew. Truly, no one else could keep me in my place.
Beaton's burying the lede in that tweet just a little, as the accompanying cartoon made clear. She and husband Morgan Murray are expecting a child, her mom is over the moon (as we knew she would be), Da always has a unique perspective on things, and pregnancy is serious overrated.
Anybody that loves Kate's cartoons (that would be everybody, near as I can tell) is filled with happiness — not only because she and her family are overdue for some joy, but also because this is going to result in many, many moments of hilarity large and small, some of which will be shared with us and the majority of which will be held close to the hearts of those that were there at the time. Some will likely involve turnips.
Congratulations and love, Kate and Morgan and little one to be named later. We're all thrilled for you.
---
Spam of the day:
NOTE: In return for the FREE CONTENT/ARTICLE that I will be providing you, I would expect just a favor of a backlink from within the main body of the article.
Oh please, tell me what topics you have on hand that are appropriate for a blog that deals 99.47% with webcomics, a topic that pretty much nobody else cares to write about.