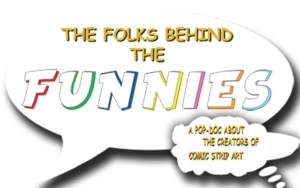 It's going to take a bit before that title makes sense.
This Friday, the Cartoon Art Museum hosts a screening for a movie with an unusual history. The Folks Behind The Funnies is about newspaper strip artists, and it takes a look at a lot of familiar — which is to say, old — names: Chris Browne, Bil Keane, Mell Lazrus, Mort Walker, and Scott Adams are prominently featured. But Gary, I hear you cry, aren't most of those dudes dead or clinically insane? Yep, and there's a reason beyond the mortality of all living things and the fact that we live in the worst timeline.
The Folks Behind The Funnies was originally co-produced as a national PBS documentary on the history of the comic strips, looking broadly at comic strips from the 1950s to the present. Principal photography started in May 2003. In October of that year, the film's director/producer, Nicholas Armington passed away in an accident. The project was left dormant until 2015 when Sari Armington (Nicholas's widow and business partner) revived the footage.
Okay, so it's fifteen years old, which might explain why the only creators on the list that haven't been syndicated since before the 90s are Darby Conley, Patrick McDonnell, Stepahn Pastis, and Hillary Price. Maybe a few others, I haven't memorized everybody's resume. There's twenty one folks there in all, and Olivia Jaimes ain't one of them.
But the amusing part of it all? Two of the creators listed have parentheticals after their names, one of which is:
Cathy Guisewiste, Cathy (retired)
Which I thought was a bit weird, as I don't think she was retired during principal photography, although she certainly is now. If current working status is the criterion, then folks like Walker, Keane, and Lazarus¹ should be marked as deceased. But the real kicker? The one that I wanted to bring to your attention?
Lynn Johnston, For Better Or For Worse (Canadian)
Yep, being Canadian or retired is worthy of note, being dead less so. That just amuses me.
The Folks Behind The Funnies by Sari Armington premieres at CAM on Friday, 7 December 2018 at 6:30pm. Tickets are available online on Eventbrite and, possibly at the door if seats remain. As of this writing, just under 100 tickets remain available.
---
Spam of the day:
Welcome to Boxwoodmeans.com. Your user registration is activated. We appreciate your business and look forward to supporting your collateral valuation needs.
As God is my witness, I thought turkeys could fly have no idea what they are selling.
_______________
¹ Irony!
Check out a trailer for The Folks Behind the Funnies here.