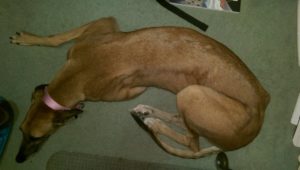 She is getting settled, and learning that not everything has to happen at the same time, that kitchen counters are off limits, that small animals are not the be-all and end-all of life, and what an acceptable amount of whining is. She's actually very good, but it's also apparent some of her ultra-chill the day we got her was from being overwhelmed by the changes she's undergone since leaving the dog track.
We've been here before and she's leaving the withdrawn stage with rapidity, and then she'll hit the acclimation stage. Until then, we may be a bit sparser with updates than usual.
In the meantime, please feel free to bust your holiday spending plans on a series of beautiful Baffler!s from Chris Yates, taken from Rosemary Mosco's bird sounds comics — you got your Indigo Bunting (Fire! Fire! Where? Where? Here! Here!), your Common Yellowthroat (Witchity, witchity, witchity.), and your Acorn Woodpecker (Wake up! Wake up!).
They're each US$295 (plus US$32 shipping and handling — and Yates ships his puzzles with vault-like protection), feautring 98-125 pieces, and fall 6.8-7.1 out of 10 on the Yates Difficulty Scale¹, which means if you're me², you're looking at an hour or so to put these handmade, unique artworks back together.
---
Spam of the day:
Juice Cleanses
Get out of here with that cleanse bullshit. Stay the hell away from my colon.
_______________
¹ Which he once allowed may be logarithmic, just like warp factors.
² I don't believe I've ever managed an 8/10 on the Yates scale; I have #2161 (rated 7/10) and number 3400 (unrated, I'd guess about the same) and they're about as complex as I want to go.
I'd never attempt one of his notorious complex multi-level behemoths if I didn't have a week to set aside. And with a new dog in the house, I'm not sure the pieces would be safe, anyway.