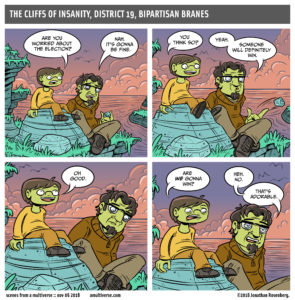 Vote, dammit.
And since I'm here, can I just say that it's really impressive that when Jon Rosenberg puts himself into his comic, he always comes up with a different, inhuman hue for his skin, and that of his family? Check it, and also here (which could be zombie makeup, but he's just tired, and Amy looks the same). It's either a real dedication to his craft, or complete laziness and I am here for it either way.
Also: vote, dammit.
PS: New Perry Bible Fellowship. Fern's a little bit more … mature than I remember.
---
Spam of the day:
PMP Certification
Man, I looked over that subject line too quickly and thought that the pimps of the world had gotten a petition through ISO or something.