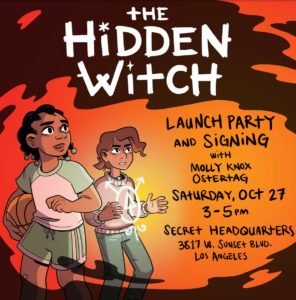 I believe that I've made no secret of the fact that the book that I enjoyed the most in 2017 — not just the graphic novel I liked best, the best book period¹ — was The Witch Boy by Molly Ostertag. I also believe I've made no secret of the fact that it was my distinct pleasure to tell Ms Ostertag that in person. Ever since I learned that a sequel was in the works, I've been eagerly looking forward to The Hidden Witch.
It releases on Tuesday, the very eve of Halloween. I am already bouncing off the walls in anticipation. In fact, I may have reacted to the news that Ostertag is having a launch party in LA on Saturday by trying to figure out if a quick cross-country round trip was practical².
But for you lucky SoCal types, The Hidden Witch will debut to the public at Secret Headquarters, 3817 W Sunset Blvd in Los Angeles from 3:00pm to 5:00pm. Afternoon, perfect for your younger Ostertag fans! She'll be signing! There will be candy! Wear a costume!
And above all, tell Molly that I'm very proud of her, will be lining up at the local bookstore to purchase on the 30th, and that I'm pretty sure that The Hidden Witch will be my favorite book of 2018.
---
Spam of the day:
Trust us, it'll only take days to drop your belly bulge
Mofos, if I drop any part of me I'll disappear. I'm a twig.
_______________
¹ Bear in mind that in the same year I read an excellent biography of Claude Shannon, the man that invented the field of electrical engineering upon which I concentrated my undergrad and graduate studies, the man whose seminal Figure 1 is my Pietà. Sorry, not sorry.
² It is not.