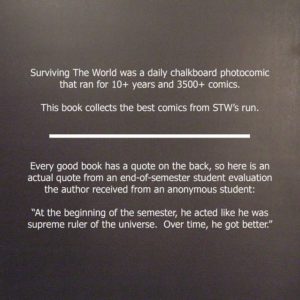 Nothing earth-shattering today, just a few random thoughts before I win the big lottery jackpot tonight and celebrate by getting better friends, a better hobby, and maybe a helicopter. Tuesdays, right?
Dante-Lucas Landshepherdherr is many things — a wizard with chalk, a labcoat fashion plate, an award-winning educator, a YouTube personality enabler, and occasionally a webcomicker. Yeah, yeah, his webcomic wrapped up earlier this year, but he's got a book coming out, which is what I wanted to mention.

Landshepherdherr made an update — a public one, let me hasten to add — to the book's Kickstarter campaign, noting that everything's off the printer, and sharing the front and back covers. It's the latter that I wanted to share with you:

Every good book has a quote on the back, so here is an actual quote from an end-of-semester student evaluation the author received from an anonymous student:

At the beginning of the semester, he acted like he was supreme ruler of the universe. Over time, he got better.

[transcribed from image]

This is possibly from back when the Landherr and Shepherd identities were not quite so commonly associated by the general public, but regardless: kudos, amusingly-bitchy ChemE student! You made it through 20+ years of life encountering nobody horrible if you found Dr Landherr to be grandiose or self-important; I hope that streak continues. Also, please be aware that the man had deadly aim with an eraser and now that you are no longer his student, you are fair game. When the EMTs find you covered in an irregular layer of calcium carbonate, I'm certain that he will have an ironclad alibi¹.

Not as recent — in fact, it's a little old at this point — is the episode of ComicLab that Kazu Kibuishi guested on. Kibuishi is, of course, the creator of the Amulet series, Daisy Kutter, and Copper, as well as being the driving force behind the Flight anthology series. He's one of the most erudite, thoughtful people in comics, and the entire podcast is great listening from start to finish.

But the part that's stuck with more for a couple of weeks now was a description of his process (which you'll find starting about the 31:28 mark); it explains a lot about how Kibuishi regards the concept of story, as well as why he seems to take a relatively long time to put a book together. Short form is, he has a very malleable approach to ordering of plot elements. Kibuishi works up sequences and scenes that he wants to tell, completely independently from each other, then arranges them in the books. It's a nonlinear approach to storytelling that I don't think anybody else uses².

He's had the advantage of telling a story that's largely episodic, with different groups of characters in different places, so switching back and forth makes sense, but it also allows an unusual degree of flexibility; he mentioned later in the discussion that a reader questions prompted — relatively lately — the need to answer a question about the story that became the opening scene of Supernova. And honestly, I can see it in retrospect — that scene could have occurred at any point from about the middle of Book 5 to the end of Book 8 (and possibly into the not-yet-released Book 9), but he shifted things around and decided that the start of Book 8 was where it had the biggest impact.

The thing is, if he hadn't talked about it, you wouldn't have known it. The great skill isn't in an unusual approach, it's in designing these sequences with entrances and exits that allow them to be slotted wherever they have the biggest impact; the story as a whole reads smoothly from start to finish. It's not a means of storytelling, it's a tool that he finds helpful to produce those stories with a maximum degree of flexibility³. It's also probably the most subtle, master-level tool in the toolbox, so maybe don't try to shift your approach without a hell of a lot of practice? Just a thought.
---
Spam of the day:
How About a Checking Account?
Got one, thanks.
_______________
¹ I'm not saying that Landherr is Batman or anything, but who has an alter-ego except righters of wrongs who are also The Night?
² Although in the production of The Sculptor, Scott McCloud did talk about working on the book in chunks of 40-50 pages, that being his unit of production. It's not really a story that would allow for swapping around those chunks, however.
³ See our discussion of graphic novel editing from last year to appreciate the process most publishers will want to see a full story in rough form and work out plot details before moving onto pencils. Kibuishi could make a shift the week before returning final pages without disrupting the book!