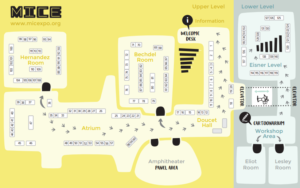 This weekend is the Massachusetts Independent Comics Expo, one of the increasingly-common, increasingly well-attended, increasingly relevant, free (or near-free) comics shows that goes by Expo or Festival. MICE, as always, will be held on the campus of Lesley University in Cambridge, MA, at University Hall, adjacent to the Porter Square T stop.
Don't worry if you've never heard of Lesley; Cambridge is across the river from Boston, and as we all know, Boston isn't a big college town.
MICE has done a nice job of attracting webcomickers and webcomicker-alikes, and this weekend you'll be able to meet the likes of Vera Brosgol, Tillie Walden, Tony Cliff and Rosemary Mosco (all of whom are Special Guests and will be in the main atrium).
In the exhibit hall, you'll find Abby Howard (H94), Alex Graudins (H88), Nate Powell (E128), Jean Wei (A42), John Green (E115), Blue Delliquanti (H95), Jon Chad (D09), Josh Neufeld (D19), KC Green (D16), Christine Larsen (B86), Wendy Xu (A57), Dan Nott (B65), Zack Giallongo (E117), , Dirk Tiede (E122), Eric Colossal (E139), and Anne and Jerzy Drozd (E118).
A few clarifications: Ben Hatke was scheduled to appear, but had to cancel; George O'Connor will be at table H102, not George O'Connor; Nicholas Offerman will be at table D20, not Nicholas Offerman; the Center For Cartoon Studies will be at table E137; Matt Lubchansky will be repping The Nib at table H89; and it is entirely possible that Lucy Bellwood will be lured away from table E116 by boats. Shelli Paroline would be a notable local absence, except for the part where she's the co-director of the show, and thus has no time to promote herself; if you see her at rest for ten seconds, be sure to thank her.
By the way, tables starting with an A are in the atrium, B tables are in the Bechdel Room, D tables in the Doucet Hall, and H tables in the Hernandez Room, all on the upper floor. The lower level is where you'll find the E tables in the Eisner Level, as well as the Cartoonarium (where artists will be doing demos all weekend). Panels are upstairs in the amphitheater, workshops downstairs in the Eliot and Lesley Rooms, with the schedule here.
MICE show hours are a nicely humane 10:00am to 6:00pm tomorrow, 20 October, and 11:00am to 5:00pm Sunday, 21 October. MICE is free and open to the public.
---
Spam of the day:
Find Love With a Beautiful Russian Woman
And yet, you advertise yourself as Ukraine Dating Agency, not recognizing that Ukrainians and Russians are not the same. Curious.