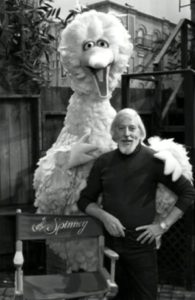 Some things are bigger than webcomics and in this case, at nearly 2.5 meters tall, literally bigger.
A couple weeks before I turned two years old, the world was introduced to Big Bird; he has been an invaluable part of the fabric of our lives ever since. In the 49 years since, Big Bird has been portrayed by Caroll Spinney, who is retiring after a half-century of delighting everybody that encounters him. It's literally a set of big shoes to fill¹, and one not undertaken lightly — Matt Vogel has been Spinney's apprentice on Big Bird for 22 years².
Let us not forget:
Spinney was responsible for the most important aspect of Big Bird's character — he is perpetually six years old.
Spinney drew the portrait of Mr Hooper that adorns the Sesame Street set to this day. Want to see anybody who grew up in the '70s cry? Bust out Sesame Street episode 1839.
Spinney was supposed to be the first non-astronaut in space; when the logistics of sending the Big Bird suit up on the Shuttle turned out to be too complex, the plan was revised into the Teacher In Space Project. This implies — aside from the the horrifying thought that we might have lost Big Bird and Spinney on Challenger — that Spinney must have practiced portraying Big Bird in zero gravity. I desperately want to see whatever recordings exist of that.
Spinney also plays the other significant child-behavior-exhibiting Muppet, Oscar The Grouch; I can not think of any other performer that has played two such polar opposite roles simultaneously for even a short run, much less for decades.
I saw him once, at a booth on the show floor at NYCC, and couldn't bring myself to walk over and talk to him; I didn't trust myself enough to retain my composure. Do not be like this. When you have the opportunity to meet somebody like Caroll Spinney, jump on it and let your fears be damned³.
So I declare that today is Spinney's, and Big Bird's, and Oscar's. Between them, they've made so many of us better than we would have otherwise been. Thank you.
---
Spam of the day:
None. Spammers don't get to share the day with Caroll Spinney.
_______________
¹ Not to mention physically demanding — the Big Bird costume requires one arm to be held straight up while simultaneously looking down at a video monitor strapped to the performer's chest, a circumstance that has left the 84 year old Spinney with dystonia, reducing him to vocal performance for the past few years.
² Vogel has, since last year, been the performer for Mr The Frog, meaning that he got to perform the literal face of the Muppets before being judged ready to take over Big Bird.
³ Okay, at one point, from about ten feet away, we happened to catch each other's eyes. I gave him a small salute and nodded; he smiled and nodded in response. I still regret my hesitancy.