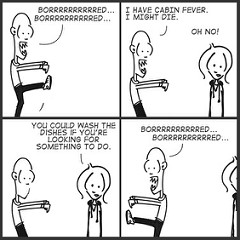 It's a long weekend, and I'm going to try to put a dent in the stack o' review copies. I've got one Science Comic down (Solar System by Rosemary Mosco and Jon Chad) and have three to dig through (Trees by Andy Hirsch, Rockets by Anne Drozd and Jerzy Drozd, and The Brain by Tory Woollcott and Alex Graudins).
Oh yeah, and also the third and fourth Cucumber Quest collections by Gigi DG, the third Delilah Dirk adventure by Tony Cliff, and the concluding Nameless City book (The Divided Earth) by Faith Erin Hicks¹.
I was going to say that :01 Books has been very good to me — and make no mistake, they're very generous with the review copies — but really, they're very good to us. They're providing significant career development for more indie- and webcomics folks than anybody this side of C Spike Trotman.
Who, speaking of, wrapped up her latest Smut Peddler Kickstart (that would be the fourth) at more thatn US$106K in only 15 days; it's not the top-funded Iron Circus effort, but it was the shortest, and with 17 pay bump increments reached, it wound up paying its contributors US$85/page bonuses on top of the base rate of US$75/page. The bonus was bigger than the base, people.
And with that off her plate, it's been a flurry of announcements, with one, two, three new books announced. Note to self: email Spike, ask if they've got a review copy list yet.
I'll see you on Tuesday — enjoy the weekend and I'd consider it a personal favor if you read some awesome comics.
---
Spam of the day:
Cure for Diabites(secret method reavealed)
Control your weight, control your sugar, exercise? I'm mean, I'm just spitballing here.
_______________
¹ Who is a machine. I literally can't tell how she can crank out a book a year.