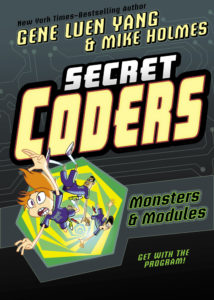 First up, the nominations hit in the last hour or so, and Fleen congratulates not only the nominees for Outstanding Online Comic, but also the web-type folks who are peppered throughout the other categories. OOC first, then:
Woman World by Aminder Dhaliwal (originally on Instagram, now most easily read on Webtoon), The Wolves Outside by Jesse England, A Fire Story by Brian Fies, Lara Croft Was My Family by Carta Monir, and A Part of Me is Still Unknown by Meg O'Shea. I'm not familiar with England's work, and I know I've read Dhaliwal's but don't recall all the details; I remember reading Fies's, Monir's, and O'Shea's and am pleased to see them here.
Other nominations of note include Say It With Noodles: On Learning To Speak The Language Of Food by the Sawdust Bear/Space Gnome/Paul Bunyan fetishist, Shing Yin Khor (for Outstanding Minicomic and How The Best Hunter In The Village Met Her Death by Molly Ostertag (who is having such a good year) for Outstanding Story, both of which appeared online originally, but which will be available from their respective creators at SPX on 15-16 September at the Bethesda North Marriott.
Right, books:
If you've got a kid in the house, they undoubtedly know Gene Yang already; if they're even a little geeky, they've probably been reading the Secret Coders series by Yang (words) and Mike Holmes (pictures), which wraps up with its sixth installment in a few weeks.

Along the way they've followed the story of Hopper, Eni (whose name turns out to be … no, no, you'll just have to wait) and Josh as they've learned some fairly sophisticated programming in LOGO¹, solved a mystery, and dealt with … let us say a romance of many dimensions. Highly recommended for the budding problems solver in your orbit, and since book 6 (Monsters & Modules) doesn't drop until 2 October, you've got time for them to make their way through the first five books².

And another book, one that you can read, I'ma say in the next week, week and a half. Longtime readers of this page know that I am fully, 100% in the tank for KB "Otter" Spangler's A Girl And Her Fed, and particularly the associated novels. I mentioned AGAHF last week, in conjunction with a turning point in the story, and Spangler's got more to say on the topic today (I'm linking to the crosspost at her writing blog, because the comic's newsposts don't have permalinks), and especially about the book in question:


In fact, the next Hope Blackwell book comes out this week! It's the story of what happened after Thomas Paine showed up in Mare's kitchen and told her about the Afterlife. There are chupacabras.

I'm not naming the novel in question because Spangler hasn't released the title publicly, but she did let me read an advance copy and if you are a fan of words, you'll find something here to love. Yes, monsters, and yes what happens when a nun with very proper sensibilities butts head with an ADHD-afflicted narrator with a potty mouth. There's odd bits of history that really happened, and the most intelligent person in the world is an asshole for shits and giggles, and trustfund ghost-hunter wannabes.

But mostly it's a story about trauma. About the hurts — some physical, some not — that we shove down and try to forget, and how they come screaming back to the surface when our defenses are down. You can laugh and deflect and delay, but trauma finds a way. You have to grow through it, and Spangler's subjected her characters to more growth — kicking and screaming, in most cases — than anybody this side of Randy Milholland or Meredith Gran.

Spangler doesn't always have a lot of sympathy for her characters, but there's empathy in spades. She specializes in damaged, quasi-terrible people doing the right thing despite the costs, people who have no fucks left to give but plenty of damns³. Plus, we send each other Sharktopuses. Anybody that you can send a Sharktopus to is by definition a quality person.

Title To Be Revealed: A Hope Blackwell Novel releases sometime this week, maybe next — there's cover artwork to be finished, final passes on the various e-book encodings to do, all the last minute stuff. When it's out, you can find it on Spangler's book page for a ridiculously reasonable sum, and I'm sure she'll make mention in her tweets.
---
Spam of the day:
Dear Gary, You are invited to attend Passionflix's World Premiere of New York Times bestselling author K. Bromberg's Driven series [date redacted]. [In attendance will be] Tosca Musk ?(Passionflix co-founder, director), Maye Musk (COVERGIRL® supermodel)
Not really my beat, but FYI, that director and supermodel in attendance? They are, respectively, Elon Musk's sister and mom. I just found that interesting.
_______________
¹ And really, it's less about the coding language and more about learning to think in a problem-solving manner. The language could have been entirely made up and it would have had just as much impact.
² As always, thanks to the fine folks at :01 Books for the review copy.
³ Hat tip for that turn of phrase to Helen Rosner, whose brilliance at Twitter is surpassed only by her brilliance at The New Yorker.