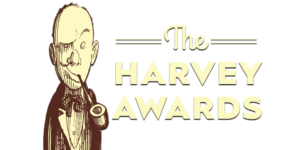 This is just schizophrenic. And by this, of course, I mean the revamped Harvey Awards, which now have only six categories, but fifteen nominees in Book Of The Year:
BLACK HAMMER: SECRET ORIGINS by Jeff Lemire, Dean Ormston and Dave Stewart
BOUNDLESS by Jillian Tamaki
EVERYTHING IS FLAMMABLE by Gabrielle Bell
HOSTAGE by Guy Delisle
KINDRED by Octavia E. Butler, adapted by Damian Duffy and illustrated by John Jennings
LIGHTER THAN MY SHADOW by Katie Green
MONSTRESS by Marjorie Liu and Sana Takeda
MY FAVORITE THING IS MONSTERS by Emil Ferris
ROUGHNECK by Jeff Lemire
SHADE THE CHANGING GIRL by Cecil Castellucci and Marley Zarcone
SPINNING by Tillie Walden
THE BEST WE COULD DO by Thi Bui
THE CUSTOMER IS ALWAYS WRONG by Mimi Pond
THE FLINSTONES by Mark Russell and Steve Pugh
THE PRINCE AND THE DRESSMAKER by Jen Wang
That's one-shot memoirs, original graphic novels, creator-owned and IP-farming monthlies, original work and adaptations, all-ages and mature readers only, all mashed in together. Whoo boy, the old Harveys were a charlie foxtrot, but this one is going to be extra chunky.
Plus, any list that includes neither The Unbeatable Squirrel Girl nor Giant Days is immediately suspect.
Most of the Book Of The Year Nominees appear in other categories, which include Digital Book Of The Year, Best Children Or Young Adult Book (those are very different things, BTW), Best Adaptation From A Comic Book/Graphic Novel, Best Manga, and Best European Book. We'll call out the Digital Book Of The Year nominees as relevant to Fleen's readers:
Solid contenders, all. Likewise, Best Children Or Young Adult Book is a pretty consistent and self-similar set of nominees:
BRAVE by Svetlana Chmakova
REAL FRIENDS by Shannon Hale and LeUyeun Pham
SPINNING by Tillie Walden
THE PRINCE AND THE DRESSMAKER by Jen Wang
THE TEA DRAGON SOCIETY, by Katie O'Neill
We'll see how it all shakes out. The Harvey Awards will be presented during New York Comic Con, 5 October. Voting is by industry professionals (Heidi Mac tells us that anybody receiving a Pro or Artist Alley badge for NYCC in 2016-2018 automatically qualifies to vote), with applications for pro status due … sometime soon? Their website doesn't actually say, but get on that if you want to vote because it's less than two months for them to get everything done.
---
Spam of the day:
Good chance just have been made to you
Having retired from Superman-inversion duties, Bizarro now composes spam text.
_______________
¹ This is the title of the first collection of Check, Please! from :01 Books, due out soon, and not the name of the webcomic. I'm not sure what's up with that.
² In their announcement the Harveys deadnamed Stone, who announced transition and a name change to Tess nearly a year ago. I mean, come on, it's only his pinned tweet.