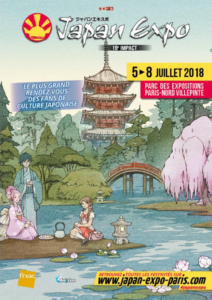 Fleen Senior French Correspondent Pierre Lebeaupin, that is. There's … stuff … going on here, and my mind is anywhere but webcomics at the moment. But FSFCPL sent an unlooked-for post — the first of two! — and so we all get to read along.
_______________
It took me some time to understand that Souillon¹ was on to something.
What struck me when I started paying attention to his signings, in order to consider going, is that he overwhelmingly favors anime cons, and generally shuns "traditional" French comics festivals. This is not merely because of his new independent status: the pattern was the same when his erstwhile publisher, Ankama, was housing him for signings (these days he either booths independently or is hosted by a bookshop).
He has his reasons, of course, of which I'd rather not speak instead of him; but I considered him an isolated case and so did not pay much attention to anime cons in general.
But last year I came to two realizations:
Festival goers for traditional French comics festivals are really centered around netting these signed copies from their favorite creators; there is not that much demand for discovery or curiosity there. It would be presumptuous of me to try and explain this phenomenon; I will just note that, since French comics are traditionally very well distributed, it seems the main role left for festivals to fulfill was to allow the public to actually meet the creators, which are presumed as being already known.
It's important for online creators to be discovered, obviously. And being rediscovered — that is, being noticed by passersby as being the creator of art these passersby first saw online — can be an important part of that. Case in point: last year I went on a lark to a comics festival of LGBTQ+ creators, and once there I noticed Shyle Zalewski was there, which I had not expected (well, not that they aren't LGBTQ+, but I had not followed them enough to notice any announcement that they'd be there).
So while I skipped them in 2017, I thought it important that I attend anime cons in 2018, because creators can benefit from exhibiting there way beyond simply catching the eyeballs of otaku using their manga-like style: attendees are much more likely to be simply travelling the aisles looking for something new, and while I described some French comics festivals as being big, anime cons are bigger (allowing more affordable table space for creators) and have higher attendance (allowing better changes for rediscovery, statistically speaking) by an order of magnitude, on average.
And Japan Expo Paris is probably the biggest (about 120,000 m² [meters squared, not a footnote], not counting the halls dedicated solely to line management) and most attended anime con in France². But by itself that does not mean much: earlier this year I went to Made In Asia in Brussels, and while that took up more than 50,000 m², I did not find any comics content to discover. And with these conventions, Japan Expo Paris included, you cannot really count on the programming or exhibitions to compensate.
Japan Expo Paris, however, was a bounty. Not only did I see SoSkuld, Pellichi, and other creators with a manga-like style³ that you would spontaneously associate with such a convention, but I also saw Jackpot, creator of Jo, whose style is definitely closer to traditional bandes dessinnées; and this was all the more valuable to meet her as she had to get away from social media (I missed Jo writer Soyouz, who was not present on Saturday). So the chance meeting aspect was definitely there.
Plus, since there was no line of people waiting for a signing, we were able to chat for a bit: for her as well attending Japan Expo Paris was a snap decision, without much of a commitment (Jo's readers have no particular expectation of seeing the creators at Japan Expo Paris), to see how it would go, and she indeed appreciated the occasion to meet readers who'd just happen to be there and recognize her work.
I came back at the end of the day to check out her booth and ask how the day had gone, and it had obviously gone well, at least better than she planned for, as she had run out of some books (Saturday being usually the biggest day).
While other creators confirmed the impression, for it to happen to Jo shows these anime cons are now much more than places for selling manga, anime DVDs, and messenger bags to people who grew up with anime (though they are that, too): they are general pop culture conventions; and much like crowdfunding is providing comics creators an alternative for financing their creations, such conventions are providing them an alternative for meeting their readers. These conventions have in recent years been colonized by Youtubers for this very reason, and it is and will be interesting to see independent comics creators doing the same.
_______________
Thanks again to FSFCPL. We'll run the second part of his adventures at Japan Expo Paris once it clears Blog Customs.
---
Spam of the day:
Sorry to see you unsubscribe! Just so you're aware, unsubscribing removes you from our global PR list for all clients. If you'll allow us, we can customize your subscription settings to specific topics so that you receive news only that you care about.
See this? This is from a PR flack that's sent stuff to me that I don't care about for years. They finally — after uncounted messages being sent to the spam folder — included an unsubscribe option and then this happened.
Don't do this. Unsubscribe means you don't talk to me any further, and it pissed me off enough that I complained to MailChimp, to find out if this was a violation of their TOS (it is).
Fun fact: the PR flack in question was using fake MailChimp headers and badging and isn't actually one of their customers! So this is going to serve as notice: if I get anything further from you, I'm naming and shaming. In the meantime, bugger off.
_______________
¹ Since Maliki does not deign show up to conventions and other public events, for the purposes of this report we will treat the creator of Maliki's webcomic as being Souillon.
² For instance, I anecdotally met a Peridot when I reached the train station next to my home to embark on my journey to Japan Expo Paris. Not unusual to meet con goers ahead of the con itself you say? Except we were at least (depending on train choices) two connections away from the train to get to the Parc des Expositions de Paris Nord Villepinte … so I think it's fair to say Japan Expo Paris draws quite a crowd.
³ One of which will be the subject of the next post.