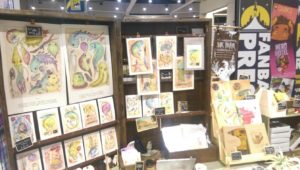 It just occurred to me that the two people I'm talking about here occupy far ends of the human size spectrum. I have to try to get a photo of them together.
When you walk down the aisle in Artists Alley and see where Shing Yin Khor is supposed to be set up and see only blank space? Don't panic. Because if you walk by again two-three hours later, you'll see an immersive table set up, looking like an apothecary of weird and wonderful things, and no sign of the proprietor because she's gone someplace better for the remaining six hours until show opening.

A transplant from a slightly confused alternate future, Khor does art from small artifacts to big installations, and you should go see her stuff. The easiest way to find her is to make it known you know where a roadside Paul Bunyan statue may be found and she'll find you, but I hear that this year's XOXO Fest will be a good bet.

As previously mentioned, Khor has a trade-only set of goods at her booth this year, and I was pleased to be the first person to make a trade with the Space Gnome. You can only make the trade for one (or more, I suppose) of:

A cool rock
A story about your favorite roadside statue
A handmade ceramic vessel
A compliment, in iambic pentameter or limerick.

And no lie, I actually dreamt a limmerick about Khor last week. It declared both Khor's stature to be slighty but also the Space Gnome to be Paul Bunyan-mighty.

I received several stickers, a mystery item (which turned out to be a badge reading I Got This), and a beautiful enamel pin; I noticed later that at some time while we were talking, she managed to inscribe a personalization on the back of the card it came on. It's marked as 1 of 200, so get to scrounging rocks, vessels, roadside statue stories, and verses; there's about 194 of them left. Khor is also providing fortunes, beautiful watercolor miniprints, and I received one reading:

THE SHARP TALON
desire, anger, retribution

The fight you know is on the horizon is long and arduous, but you are prepared for it.
Your instincts are sharp, and your skills will be called upon to create a better future for you and yours.

Shing Yin Khor can be found at the Center For Otherworld Studies most times during the show, Small Press table O-04.

Ryan North is a smart, funny man, one that towers over all he surveys both figuratively and literally. We spent some time chatting about his forthcoming book, How To Invent Everything (an Amazon-avoiding Kickstart for which is running now, with exclusive cool stuff), and he let me in on an exclusive story — appropriate for a book about changing history — of what could have been.

In the book, he tells you how musical notation works, and provides the sheet music for some of the great works of the Western canon (Pachelbel's, specifically, along with some Mozart and Bach), which if you're in the past you can write down before they do and be the greatest composer ever!

But one masterwork eluded him. Because while Mozart, Bach, and Pachelbel are in the public domain, the fourth Greatest Song In History is not, and he was unable to get to the rights to include the music in the book. The rights administrator was confused — it's not a mechanical reproduction as in a cover version recording, that's got an easy, established process. North offered to do the arrangement himself, and the administrator kept asking, Is this for a textbook?, not really getting that it's a general science book about time travel and humo[u]r.

In the end, they were not able to come to an agreement, and so if you are ever trapped in the past, you will sadly not be able to retroactively teach the world to Shoop before Salt-n-Pepa do. Our futurepast culture will somehow have to survive. North did get an appropriate alternate fourth Greatest Song In History for inclusion, but I promised I wouldn't spoil it. You'll just have to get the book yourself and see.

Ryan North can be found at TopatoCo most times during the show, booth 1229.