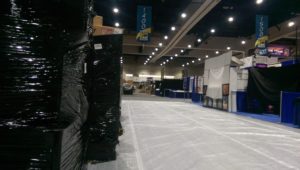 And, in a way, slower that usual. The shift to much of the exclusive merchandise being available by pre-assigned lottery seemed to reduce the madness of the crowds somewhat. The other big shift of the year was the vaunted closing of the Harbor Drive, which fronts the San Diego Convention Center; it wasn't in evidence at the times I was coming and going, however. The fact that the convention center is raised above Harbor Drive and has limited access points (one set of stairs in the middle, walking on at either end) seems to offer a limited benefit for reducing drag. Word is today that badge check will happen outside, away from the actual convention center doors, so maybe that will be an improvement.
Build out was the usual dance of frantic and calming, with admonishments over the loudspeakers this year that Exhibitors are not allowed to photograph or take video of booths before the show opens, with the crime of posting visuals of the show floor prior to opening subjecting one to possible expulsion. There's one photo of setup, but honestly? It looks the same from year to year.
It's in the interest of changing things up that instead of doing a large round-up post, I'll do a brief summary, and multiple posts of interesting things interspersed. There will be one or two short bits of ephemera here, along with a preview of the day's panels and the best cosplay photos once that gets underway.
The best ephemera was I met the editor of the new Nancy, and I told her it's my mission to ask every cartoonist I meet if they are are, individually or jointly, Olivia Jaimes; I also asked her if she, personally, was now or every had been Olivia Jaimes. She informed me that my best guess as to Olivia Jaimes's identity was wrong, that Jaimes is a single person and not a team, that she's a woman, and that she's not telling me who it is.
Fair enough, and I let her know that Nancy is now brilliant, and never more so than in those first couple weeks of Jaimes's tenure, when the Sunday strips of her predecessor Brad Gilchrist were still running, and the contrast in style — not to mention level of funny! — was shockingly obvious. Last week, I laughed out loud at a newspaper strip for the first time in at least a decade because Olivia Jaimes is so very, very good at her job.
Also, Winter McCloud if heading to grad school, so if you were wondering if you're getting older, the answer is yes.
Panels to watch for today include:
YA Comics FTW! with Jen Wang, Scott Westerfeld, Molly Ostertag, and Tillie Walden. Room 4 at 3:30.
Superstars In Children's Graphic Novels with Molly Ostertag Nina Matumoto, Jarrett Krosoczka, Aron Steinke, Ian Boothby, and Jeff Smith. Room 26AB at 5:30.