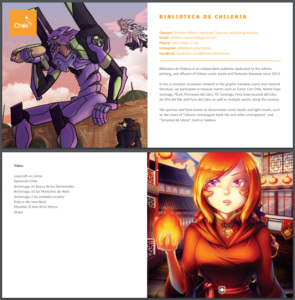 This is the oddest unsolicited email I've ever received. I can't really say it's spam, since it's not trying to separate me from my money. It's also not the usual breathless PR dreck, in that it's not promoting the launch of a bad movie, a bad comic, a bad collectible, but rather a country.
Chile is gonna be at SDCC, y'all.
Tales of fantasy, crime and mystery; these are part of the proposal that Chile will present between Thursday, July 19 and Sunday, July 22, at the San Diego Convention Center. For the second consecutive year, Chile will be present as the only country in Latin America to exhibit in Comic Con San Diego.
I must have missed it last year, but Chile is taking an interest in promoting its national artistic efforts in the comics arena. I've seen national groups (either official, or via a cultural society) many times at the festival-type shows (especially MoCCA, where by my recollection France, various Scandinavian countries, Italy, Portugal, Israel, Taiwan, and other countries have sent representatives), but I don't recall it happening at one of the big tier comics (and let's face it, mostly not-comics) shows.
Honestly, I always love going by the national culture tables, because sometimes it's just really good work, and sometimes there's something undefinably unique to the range of work, something that's indicative of the national character.
In the 49th annual Comic Con International: San Diego , Chile will be represented by graphic humorist Alberto Montt, illustrator and comic artist Catalina Corvalán, the prominent cartoonist and graphic designer Germán Adriazola; and the editors Emiliano Navarrete and Oscar Salas of the editorials Biblioteca de Chilenia and Dogitia Publishing, respectively.
Chile (or, more precisely, the Chilean Trade Commission) will be represented at booth 5526, which is right by entrance B2 on our 2018 floor maps. They'll have representative work and a showcase of the styles and history of Chilean comics, which has more than a century's history (or so I am told). I've included a couple of images from the delegation's catalog up top so you can decide if you want to browse by. If nothing else, I intend to give them an unequivocal welcome to the US, because screw nationalism. Comics are an international art form, and I'm glad to see them making the trip.
---
Spam of the day:
Chronic News: Cannabis Coffee Now Available!
Hey, look! Two stupidly popular things I don't care about combined into one thing I can not care about. Efficient!