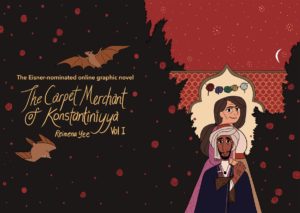 Sometimes, it's the details that catch you.
For example, I saw a notification via the Tweetmachine of a crowdfunding for an Eisner-nominated webcomic to get a print collection. Now, I could tell you that the detail was the lovely bit of lettering in the title — The Carpet Merchant Of Konstantiniyya — that jumped out at me. Delicate, flowing, the double-y grabbing the eye. It could be the color, it could be the immediate focus on the cover of a woman of middle age with heavy eyebrows cast as a notable character, although she appears to be behind (perhaps supporting) the likely title character. That guy absolutely looks like a carpet merchant. Or that bat. That bat is gorgeous.
But, no. What caught my eye was something else. Let's look at that tweet again:
Support my comic's kickstarter!
If you like POC-centered historical fantasy, a fresh take on the vampire genre, & pretty historically inspired comic layouts, this book's for you! https://unbound.com/books/the-carpet-merchant-voli …

88 backers, & 15% funded!
(if you buy 2 books you save on shipping)
What caught my eye was the lowercase-k kickstarter, and the link, which is not to Kickstarter, but to Unbound, which crowdfunds books specifically. Reimena Yee might be the first, but she won't be the last — Kickstarter has just been aspirined, kleenexed, xeroxed, googled. The proper name has become the generic term¹.
Oh, and the comic is damn pretty, too. It's only at 20% funding so far, but Unbound doesn't appear to be time-limited like Kickstarter campaigns; the books are funding because the creators pitched to editors, who agreed to take them on. It's a mix of crowdfunding and traditional publishing, and while I haven't seen it make inroads into comics and graphic novels (I only found 12 instances in the four or so years of Unbound's existence), I'm going to keep an eye on it in future.
And, I imagine, somewhere in Greenpoint, Brooklyn, they're going to be keeping an eye on lowercase-k usages of Kickstarter. Sometimes, being ubiquitous is a lot of work.
---
Spam of the day:
OFFICIAL, LIMITED EDITION PANTERA MINI-GUITARS AT SDCC
Rumor has it Stryper wanted to do this too, but Pantera beat them to the punch.
_______________
¹ Also on the list of now-generic terms? Comic Con. Just saying.