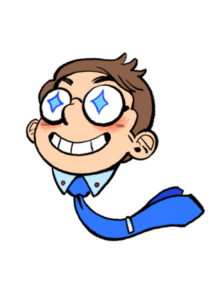 So yesterday I wondered in a footnote about the possible impacts of the looming Trade War With China on webcomics. Here's the crux of what I said:
Thought that just occurred to me. What with the whole trade war with China stupidity going on now, we aren't shipping as much stuff to China, we won't be getting as much stuff from China, is this going to take container ship capacity away (as they're redirected to other trade routes) or make it more plentiful/cheaper (as there may be an excess of space/ships)?
My thoughts were almost entirely in terms of the raw costs of container shipping; if we aren't sending soybeans to Shanghai in the immediate term, will there be freshly unloaded ships waiting to be loaded up with stuff for the holiday selling season? Would things not specifically on the threatened tariffs list (which is a moving target, day to day) be impacted as collateral damage? I figured there was only one person to ask.
Readers of this page know the regard that we at Fleen have for George Rohac: slayer of problems, fixer of systems, arranger of logistics. He's overseen maybe more Kickstarts than anybody else, to the point that they recognize him as an official Expert. He knows the sausage-making end of getting things made, especially via print. SO when I asked, I was unsurprised that he's been thinking about it, but a bit surprised that he's looking at things from another angle. To quote:
So for now, it isn't hitting anything. But as with anything in the world of Trump, that could change on a dime. I haven't seen/heard anything happening with regards to more frequent customs crackdowns, so right now its basically business as normal.
Not capacity/logistics, but the possibility of policy decisions mess with things. If the order comes down to make every Customs inspection of everything from China extra specific, time and costs (storage, brokerage, etc) go up.
That said I am encouraging people to just factor in an extra 25% as a trump tax in case stuff gets fucked. This I'd recommend regardless of where you're manufacturing. Since he's hitting Canada the plants people use in Montreal often could be hit, and also US plants that are part of global multinationals could wind up having trickle down cost increases.
Again, not the shipping end of things, but the possibility that Screamy Racist Orange Grandpa decides to suddenly slap worldwide tariffs on paper, or finished printed goods, or whatever. Planning ahead for extra costs also seems to be smart planning in that if you get hit with unexpected expenses, you're covered; if you get lucky and the costs don't materialize, you've suddenly got more money and that's not a bad thing.
A quote will typically have a "price good until X date" so if you're printing in that window, fine, if not, then build in buffer.
And here's where George's long experience with printing comes in — if your printing proposal doesn't have a timeframe on the pricing, any unexpected costs could be passed along. The last thing you want is a profitable project suddenly turning into a break-even or money-losing project. If I were to summarize George's answers, it would be Do your due diligence, get everything in writing, and assume your unexpected costs could be even greater than your past calculus. Much like planning now for the potential of a USPS shipping rated increase in six months¹, this is going to be a careful balancing of probabilities, optimism, and pessimism.
There will probably be people that offer to help cropping up in greater numbers than in the past, and it'll be important to ensure that they know what they're talking about before paying them money, or tying the success of your project to their supposed expertise. I'm not saying they have to have George-level experience², but I am saying that there's a difference between a company that's done this before and one that's assuming it can do this³.
Just as for every Make That Thing there's several dozen companies whose ability sits somewhere between aspirational and completely fictional, there are going to be newcomers and fly-by-night operators in this facilitation space. Choose carefully. Or, if we're lucky, George (or somebody like him) will do some seminar-type training on how to navigate these challenges on your own. Like somebody that I just made up in my head once said, Trumpian chaos is just another way to say opportunity.
---
Spam of the day:
What Company is #1 Rated Overall for Home Security?
The answer suggested by this spam is bestcompany™, which appears to not be a home security company, but rather a directory of all kinds of companies. It's some pretty mixed messaging
_______________
¹ Never mind what would happen if SROG's stated intention to privatize the US Postal Service actually gains steam.
² Only George has George-level expertise, pretty much by definition.
³ Fun fact that came up in an unrelated conversation today; when you fly into Northwest Arkansas Regional Airport, all the usual airport ads for car services, hotels, etc, are entirely replaced by ads for contract logistics and merch-management companies, whose entire pitch is Hire us if you want to be less screwed by Walmart. Some of them tout years or decades of experience navigating the Walmartian minefield and others … do not.