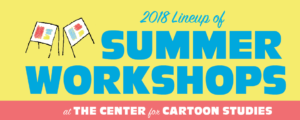 I first noticed things yesterday at the twitterfeed of the Center For Cartoon Studies, who teach a lot of folks How To Comic; the announcement was for a particular workshop with a universally-regarded creator:
CCS Summer Workshop: Creating YA Graphic Novels, July 30-Aug 3. @yalsa award winning author @JoKnowles teams up with Ignatz winner and Eisner-nominated cartoonist @TillieWalden '16 to teach this incredible five-day workshop: https://www.cartoonstudies.org/summer-workshops-2/ … #comics #graphicnovel
But here's the thing — this is just one of a whole stack of summer sessions at CCS! If you follow that link, you end up at a page full of workshops:
CCS 2018 SUMMER WORKSHOPS
Drawing and Writing Single Panel Comics with Hilary Price: June 11-14
Cartooning Studio with Luke Howard and Jarad Greene: June 25-29
Graphic Memoirs with Melanie Gillman: June 26-30
Beginning Animation with Alec Longstreth: July 9-13
Create Comics: with Beth Hetland and Luke Howard July 16-20
Creating Graphic Novels for the Young Adult Market with Jo Knowles and Tillie Walden: July 30-August 3
Graphic Novel Workshop with Paul Karasik: July 30-August 3 or August 6-10
Queer Comics with Tillie Walden: August 6-10 (sold out, call for waitlist)
So in addition to Tillie Walden (who's spent the past 18-24 months exploding onto the comics scene, with Spinning being just the most visible of her work), you've got Melanie Gillman (whose As The Crow Flies has been tearing up the critical acclaim and award nominations since it hit print with Iron Circus) from the general realm of Webcomics.
As an aside, one of the hallmarks of a good educational institution is when people stay associated with it after graduation; Walden is a 2016 graduate, Jarad Greene got his MFA at CCS before taking a job in the admin arm, Beth Hetland also took an MFA before joining the faculty of the School of the Art Institute of Chicago, Luke Howard got yet another MFA before joining the CCS faculty.
Add in the expertise of the workshop leaders (Hilary Price has been awarded Best Newspaper Strip by the NCS four times; Longstreth and Howard are Ignatz winner and nominee respectively; Karasik has an Eisner), and you've got some high value being shared. The tuition varies from US$600 – US$1000, with an option to extend Karasik's workshop for eight weeks only (an additonal US$1200), and options to get college credits for an additional fee.
Yeah, it's a lot of money, but if you want to up your game rapidly, a four-day intensive correction of your trajectory as a creator could be worth as much as a year or two of self-discovery. Only you can determine if the investment in your skills is worth the money, but at the very least it's a pretty spot to spend a working vacation.
---
Spam of the day:
Name, We may be able to help you pay off your credit cards
That placeholder only works if it's properly parameterized and you supply a list of values to substituted in. Come on, spammers, it's not like we didn't get taught how to do this in Mail Merge 25+ years ago!